The 2008 Holiday Gift Guide
Helping You Navigate An Avalanche Of Releases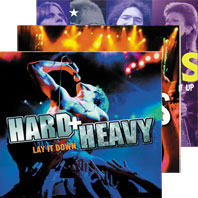 Don't just give it to 'em hard this holiday season; give it to 'em hard and heavy! We all know those terrible (great) Time Life infomercials where they hawk '80s hard-rockin' collections or "monster" power ballads, right? Well now you can get the whole dame thing in one set with TL's "Hard & Heavy" set: "the most complete collection of hard rocking, head banging hits of the '70s and '80s ever assembled." We challenge the credentials of Billy Squier's "The Stroke," Honeymoon Suite's "New Girl Now," or The Tubes' "She's A Beauty" as fitting such criteria, but Quiet Riot, Dokken, Billy Idol, Scorpions and 148 other songs shoved on nine discs (and don't forget the shitty DVD of Bret Michaels hosting the commercial and playing shitty acoustic versions of shitty Poison songs)? Now we can spend all those iTunes gift-certificate stocking stuffers on music we don't feel guilty about buying. Remember, though: You can only get this set at Timelife.com or by calling 1-800-846-3543 . . . Surprisingly, there isn't one ZZ Top tune among those 152 "Hard & Heavy" tracks, so thank goodness for Warner Bros. and its release of a collector's CD/DVD Eliminator. The CD is a remastered version of the album's first pressing (4:34 version of "Legs," not the 3:35 single version) plus seven bonus tracks; five are live. You can buy just the audio copy of the reworked Eliminator, but then you'd be missing out on the DVD and all those wonderful '80s ZZ videos, and they were all wonderful . . . One reissue, Warner Bros? Pssshhh, Fantasy Records says. If it's worth doing once, it's worth doing six times, which is what the label did with Creedence Clearwater Revival's catalog. All half-dozen Creedence albums (Creedence Clearwater Revival, Bayou Country, Green River, Willy & The Poor Boys, Cosmo's Factory, and Pendulum — no Tom Fogerty-less Mardi Gras) expanded with bonus material — some good, some filler. Willy & The Poor Boys, for example, includes a "Down On The Corner" jam session with Booker T & The MGs, and Pendlum features "45 Revolutions Per Minute" parts 1 and 2, allegedly among the rarest of CCR collectibles. Bayou Country, on the other hand, only has a longer take on "Bootleg" plus live versions of "Born On The Bayou" and "Proud Mary" . . . Legacy, as it's known to do, pulled out all the stops for Roy Orbison's The Soul Of Rock And Roll. With all the Orbison compilations, it's hard to say one way or the other, but Legacy/Mon-ument/Orbison Records is calling Soul Of Rock And Roll the "definitive" set, and it's hard to argue with 107 cuts packed into four CDs going all the way back to his first bands, The Wink Westerners and Teen Kings, and including 12 previously unreleased (demos and live cuts from his final concert) tracks. Illinois Entertainer's plastic-sleeve advances don't do much justice for the packaging, but those of you who don't depend on industry promos to stock your collection can expect a deluxe box set covered in white linen with an 80-page book including liner notes from his widow, Barbara, son, Roy Jr., and testimonials from the likes of Glen Danzig and Lemmy Kilmister to Clint Black and Dolly Parton . . . Singer-songwriter Jim Croce died (plane crash) at the peak of his success (just a few months after "Bad, Bad Leroy Brown" became his first No. 1 hit) in 1973 — obviously tragic. The fact he was only 30 made it even more woeful. In the three years prior to his death, Croce wrote and recorded seven Top-Ten singles, so you can only imagine what he might have accomplished given a full career, but thanks to Rhino you can at least remember what he did accomplish. In tribute of the 35-year anniversary of his death, Rhino reissued all three of his studio albums, with You Don't Mess Around With Jim and The Life And Times making their CD debuts. The third, I Got A Name, which peaked at No. 2 on the Billboard chart, has been out of print nearly 10 years. If you want to see and hear Croce, Madacy, Shout Factory, and Croce Music Group joined forces on a collector's box set, Jim Croce Collector's Edition, which includes the Have You Heard — Jim Croce Live DVD as well as the "Home Recordings" and greatest-hits masters CDs.
With more than four hours of music spread over four discs, The Jesus And Mary Chain's The Power Of Negative Thinking: B-Sides & Rarities (Blanco Y Negro/Rhino) will scare off all but the most zealous fans. It's a shame, because aside from the crisp, slender package we learn how JAMC went from the fey new wave of "Up Too High," a 1983 demo, to the landmark Psychocandy in less than two years (the Reids invested in Velvet Underground records). Granted, blinding revolution doesn't occur that frequently among the 86 tracks, but alternate histories are fascinating tales nonetheless . . . Had Legacy not assembled the three-CD/DVD To Be Free: The Nina Simone Story, the outcry wouldn't amount to much. Despite secondary status to Billie Holiday and Ella Fitzgerald among jazz's first ladies — one of the lasting Simone criticisms is she was great, but she wasn't jazz — she has been compiled endlessly. What's the latest package's value? Certainly it doesn't lack for essentials ("I Loves You, Porgy," "My Baby Just Cares For Me," "Feeling Good"). But the advantage for Simone collectors (and disadvantage for their budgets) was her Dylan-like fluidity with material, and near incapability to repeat a performance. That's why Legacy can get away with cutting "Sinnerman" and "Why?": They've substituted an 18-minute George Harrison medley and a blistering "Mississippi Goddam," the latter recorded three days after Martin Luther King Jr.'s assassination . . . And then there's drafting a Ry Cooder anthology: Warner Bros. and Rhino get cocky, but by running the length of Cooder's career through this year's I, Flathead, they show considerable (and financial) acumen. (Flathead's label is Nonesuch, a WB boutique.) The UFO Has Landed's two discs are presented more thematically than chronologically, beginning with a mission statement, Johnny Cash's "Get Rhythm," and then navigating Cooder's whims like drunken sailors in a mined harbor. Disc One "concentrates" on his staggering musical range, and primary compiler/son Joachim Cooder shows little regard for making an easily digestible listen. Disc Two is darker, cueing "wry" Cooder the songwriter though also tracking in nuggets like the anti-cover of "Dark End Of The Street." It would take a box set to fully encapsulate him (Buena Vista Social Club musicologist, sessioner for The Stones and Captain Beefheart), but someone needed to start this somewhere . . . While Hollywood Records were crafting the vinyl edition for Cosmos Rocks by Queen + Paul Rodgers, they said "what the hell" and reissued Queen II, A Night At The Opera, Sheer Heart Attack, and A Day At The Races on 180-gram slabs as well. All but Sheer unfolds in gatefold glory and tickles the imagination like Freddie Mercury, a waiter, and a bag of blow at an album-release party. New batches of Queen vinyl are to be baked every six months . . . Eyebrows were raised when Columbia/Legacy revisited Johnny Cash's Live At San Quentin last year, as there was a more imposing penitentiary recording available in the Cash archives. Relax those forehead muscles — the At Folsom Prison collection has arrived. Yes, the cuss words have become unmasked as has the choreography behind "Hello, I'm Johnny Cash," but the big prize is the full recordings of both days of shows — opening sets by Carl Perkins and The Statler Brothers included. An accompanying DVD wanders a bit between Cash bio, the Folsom arrangements, and prison-reform activism, but finally gels when settling on the forgotten tale of former inmate Glen Sherley . . . Rhino's Replacements reissue series has now entered Stage II: the years of living not-so-dangerously. After handling The 'Mats' formative Twin/Tone years, the Sire catalog, though monumentally less exciting, actually scores higher in the rarities department. As remasters go, 1985's Tim and 1987's Pleased To Meet Me have their teenaged bones filled out more, which adds space to the former but dulls some of the latter's spunk. There are three alternate "unreleased" versions of "Can't Hardly Wait" (one is intriguingly close to the outtake on 1997's All For Nothing collection), though the real worth is in Don't Tell A Soul and All Shook Down — the derided Paul Westerberg "solo" outings — which are nearly redeemed by their outtakes and b-sides . . . Rhino's best work comes this fall in reissues of New Order's first five albums. The arc from the uncertainly on how to artistically handle Ian Curtis' death (the ironically titled Movement) to the Madchester/Ibiza acid house explosion of Technique certainly frames the campaign and lends it continuity. But its treasures are twofold: First, collectors who have neither the gumption nor scratch now have the essential single and 12-inch mixes in one place. Second, while the two-disc Substance has performed admirably 'til now, many of the singles — which were not necessarily on the albums — arrive attached and chronologically to provide much needed context. And sometimes you just want "Temptation" to keep going . . . They don't always process the trends correctly, though we've got to give it to the majors for meeting vinyl demand. EMI/Capitol dropped a box on us that included 180-gram "remasters" of Megadeth's Peace Sells and Rust In Peace, Music From Big Pink and The Band's self-titled second, Roxy Music's debut and For Your Pleasure, Wings' Band On The Run, Queensryche's Operation: Mindcrime, The Verve's Urban Hymns, Stray Cats' Built For Speed, John Lennon's Rock 'N' Roll, and The Beach Boys' Endless Summer. Lush sound and it's a pain in the ass to upload these to file servers! Everybody wins!
— Steve Forstneger & Trevor Fisher