Flogging Molly
Alchoholics Unanimous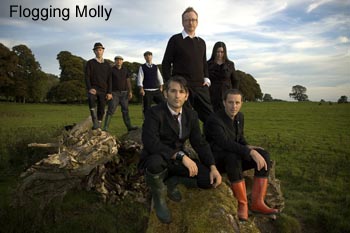 How does a songwriter know when a track he's tinkering with has grown into a well-oiled, crowd-pleasing hit? If you live in the remote wilds of Ireland, like Flogging Molly frontman Dave King, the answer's easy — just grab your guitar, saunter down to your local pub, get oiled on a few pints yourself, and try out your new material on the equally inebriated masses. If your fellow drinkers don't dig it, it's safe to say you've probably failed in that particular creative endeavor.
"The people in Irish pubs are really honest — they'll tell you exactly what they think," chuckles the Dublin-born King, who recently relocated from Los Angeles to the rolling green fields of Wexford. He brought along his new bride — band fiddle player Bridget Regan — and the couple now reside in a rustic circa-1780 cottage. Their nearest neighbors? "Horses, cows, and sheep," swears the singer. "Where I am now, there just aren't a lot of people. So I can go down to the pub and play a coupla tunes every now and then — I just keep it really mellow, ya know?"
And King wants to make it clear: Almost every track on Flogging Molly's fist-pumping latest, Float (Side One Dummy), was alehouse tested. "When we were writing the album, we'd go down to that pub and have a session, great ones that were a lotta fun," he recalls. "We'd go down on a Friday or Saturday night and just play something new that we'd written that week and just have a jam. And because there were a lot of musicians down there, as well, we'd always end up playing some Van Morrison songs and things like that. It was simply a great atmosphere."
Is almost everyone in Ireland musical, a la Alan Parker's brilliant Celtic-rock drama, The Commitments? King laughs. "Yeah — it really seems that way sometimes. Even when we were recording the album [at even more remote Grouse Lodge Studios in County Westmeath] there was a regular session at the local pub in the village. And it was incredible, with children involved and everything. And it went on for hours, with poetry readings, storytelling, songs, music, and dancing. It was just fantastic."
In concert, one of the group's biggest rabble-rousers is the title track from its second album, Drunken Lullabies. And that pretty much sums up the anthemic, Guinness-fueled feel of most of its material — formed in '97 in an L.A. bar called Molly Malone's, the septet plays a stunning fusion of Celtic and punk that clobbers crowds like the Pogues on methedrine. Drunken lullabies, indeed: Float is fairly afroth with righteous, often-political reels like "Requiem For A Dying Song," "(No More) Paddy's Lament," and "You Won't Make A Fool Out Of Me," all held together by King's still-brusque brogue. You can't help but lift your glass high and howl along with these addictive anvil choruses.
When King first left the Auld Sod in the late '80s, he chose a fast way. Quite literally — as the lead singer for Fastway, the post-Motorhead metal project of guitarist Fast Eddie Clarke. After it disbanded, he wound up living in California and liking it. "America is such a vast country," he appraises. "Every part of it has its own little thing that makes it different, in a way. So I think America is just an incredible place."
Why did the prodigal son return home after all these years? Part of it was his marriage to Regan — or two weddings, he corrects, one in Tokyo and another for family in her native Detroit, where the pair still maintain a house. "But more importantly, it seemed like it was the right time to get in touch with my roots again. When you're on the road as much as we are, eight months out of the year, it's nice to have that peace and quiet. It gives you a little bit of time to wind down and relax. And right now, the next time we'll finally have off to return to Ireland isn't until January."
— Tom Lanham
To see if things have changed in his absence, grab the December issue of Illinois Entertainer, available free throughout Chicagoland.