Everest
Neil Before Them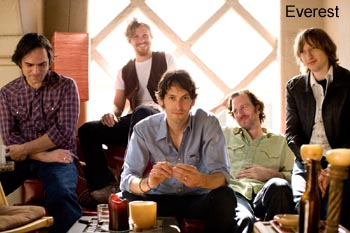 Neil Young's seal of approval surely must bring a few perks . . . like a tour bus. Not so much for Everest. The Los Angeles-based band calls Young's Vapor Records home, but the quartet will squeeze into a white van to criss-cross the country along with Young on his winter tour. In the grand scheme of things, opening for one of the most respected names in rock on a large-scale, multi-city jaunt trumps the little things like creature comforts and personal space.
Appearing: Tuesday, December 9th at Allstate Arena in Rosemont.
And the longtime friends aren't complaining. Frontman Russell Pollard knows how fortunate this little collective is. Heck, Everest's debut album, which took a whopping two weeks to record, only hit store shelves last May. In the short gestation period since forming into a full-fledged band, Everest constructed a strong introductory disc, signed a deal with Vapor, and hit Europe with old acquaintances My Morning Jacket, but not before sharing a stage with Young and The Frames at Dublin's Malahide Castle. Whirlwind doesn't even begin to describe it.
"It could appear that we just came out of nowhere and 'who the hell are these guys,'" Pollard says, phoning from home an hour before rehearsal. "But, really, honestly it has happened very quick and I admit from day one this band 'til now, it's been a very fortunate and fast moving train."
The lanky lead singer does bring up a valid point: So who the hell are these guys? No strangers to the music biz, the members of Everest have each lent their considerable talents to a bevy of indie icons such as Earlimart, Slydell, Sebadoh, and Folk Implosion, to name a few.
Despite this pedigree, something was missing. Pollard says the band clicked immediately because, at that point, everyone was in an in-between place in his life, blowing in and out of various projects like scattered leaves on a fall day. Guitarist Jason Soda and Pollard ran a studio aptly called Everest Recorders, working on The Watson Twins' recent debut (Pollard and Chandra Watson are married), while guitarist Joel Graves headed up Elliott Smith's old room, New Monkey Studio. The three found bassist Rob Douglas playing in a club one night. (Douglas has since amicably parted ways with Everest; bassist Elijah Thomson and drummer Davey Latter join the band on tour.)
— Janine Schaults
To find out how Everest came to be, grab the December issue of Illinois Entertainer, available free throughout Chicagoland.