Dark Dark Dark
Heaven Gallery, Chicago
Thursday, December 11, 2008
In 1998 the just-reunited and rejuvenated Kiss released an album called Psycho Circus. It sucked. Dark Dark Dark sound nothing like Kiss, but if any band deserves to call a record Psycho Circus, it's Dark Dark Dark.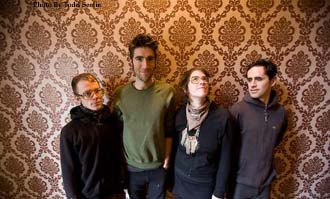 The quartet, comprising accordion/vocalist Nona Marie Invie, banjo/vocalist Marshall LaCount, cellist Jonathan Kaiser, and upright bassist Todd Chandler, actually named their debut full-length The Snow Magic (S&D), which surely means something to them, but not much to us. Maybe because the band calls Minneapolis (screw the Vikings!) home? The Snow Magic's 13 tracks deal with your regular subjects (lost loves and friends and the refusal to be held back), but the music often feels like a bad acid trip in the middle of a three-ring circus – morphing faces, never-ending merry-go-rounds, sensitive hearing, and cocktail waitresses screwing bears. We think, hiccup,/em>, The Snow Magic is giving us the fear. Invie has an equally enchanting and creepy voice and her accordion, along with LaCount's banjo, is the accompaniment to a night alone in a secluded log cabin. Dark, dark, dark stuff.
– Trevor Fisher
Category: Stage Buzz, Weekly