Yes
On The Road Again . . . Finally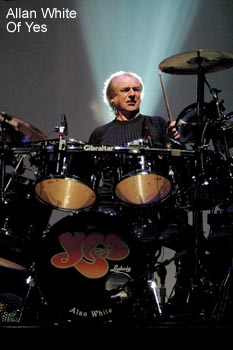 In theory, 2008 was supposed to be a banner year for Yes, with a 40th-anniversary tour (featuring the classic lineup of singer Jon Anderson, bassist Chris Squire, guitarist Steve Howe, drummer Alan White, and new keyboardist Oliver Wakeman assuming his father Rick's role) booked. Though buzz started brewing across the globe for the progressive rock icon's extensive trek, the enthusiasm was quickly squelched when Anderson suffered a severe asthma attack, was soon diagnosed with acute respiratory failure, and subsequently had to cancel the outing.
Appearing Wednesday, December 3rd at Chicago Theatre in Chicago.
"We had tickets on sale and were really looking forward to it, but it kind of put the blocks on everything," explains White via phone. "[Anderson's illness] appeared more severe than we first thought and it was absolutely impossible to go forward. The doctor told him he shouldn't sing for six months to a year, so we were then sitting and talking in conference calls about what to do. There was nothing we could do but cancel the tour at that point and we felt really bad because people had booked plane tickets and couldn't get their money back."
Just when the group appeared down for the count, a surprising announcement popped up promoting an "In The Present" tour featuring White, Squire, and Howe, alongside the younger Wakeman and Canadian vocalist Benoît David. It's far from the only instance where a band has hit the road without its original frontman, and surviving members are very careful about billing each individual player in hopes of eliminating confusion.
"We're calling it 'In The Present' because Yes changes shape all the time," White relates, recognizing a continuation of the 40th anniversary idea would've been inappropriate. "Jon still wasn't well enough, and we had a decision to make because, quite frankly, the band was sick of waiting to go on road. Rick's son is doing the tour because [Rick] doesn't want to go on a long tour, and Benoît is a very, very nice guy who talks and sings just like Jon. It's pretty scary and I have to give it a second look sometime. If you close your eyes on all the old favorites, it wouldn't sound any different."
Though David is being thrust into the spotlight, he's best known for leading Yes tribute band Close To The Edge and also Canadian group Mystery. And just like fellow lead-singer switcher Journey, Yes' members discovered the rising star online.
"Chris sent me this video from You Tube that sounded uncannily like Jon and we decided moving Yes on, because who knows if we'll ever be able to go onstage with [Jon] again," White says. "Journey's on their third singer now [actually fourth] and that makes me feel better about the whole thing because it seems to work for them. Those who've seen [newest Journey singer Arnel Pineda] live are saying he apparently sounds just like Steve Perry."
Most would say Yes has more credibility than those arena rockers; skeptics will insist this tarnishes the group's legacy. Then again, this isn't the first time someone other than Anderson has led the band. Trevor Horn fronted 1980's Drama after Anderson resigned because of "creative differences." That stint was short-lived, Anderson quickly returned, and Drama material has been absent from Yes set lists for ages but will be among those songs performed during "In The Present."
"One thing this enables us to do is play the songs Jon wouldn't sing," White reiterates. "There will definitely be a couple from Drama — "Tempus Fugit" and "Machine Messiah" — which are relatively long numbers, but the band is playing quite well. We're rehearsing about a three-hour set, but will cut it down a little bit to about two hours and 15 minutes. Our repertoire is so huge we'd have to be onstage for two days if we played everything everybody wanted to hear, but we promise to play some things [we] haven't played for awhile."
Though Yes appears to be back to business as usual, White is very deliberate crediting Anderson as an official member and hopes his absence is just temporary. Those following Internet chatter may have seen a bit of backfire from the fallen frontman, who was justifiably upset to see his cohorts continue without him, but apparently, fences have been mended.
"Jon's initial reaction was disappointment as he considers himself still in Yes and so do we," White admits. "But he knows we want to move on and make music and he's got mixed reactions. He's come to terms that he's too sick and knows we can't sit around forever, and I think he's resigned himself to that fact. It was just his 64th birthday and I sent him an e-mail. He sent one back saying 'I understand you guys,' and it seems to have kind of all sunk in. But absolutely, all three of us feel that [Jon] is still in Yes and always will be. In fact, we tell people sometimes that if Jon wants to come and sing on a tour, maybe we'll take Benoît out as well and they can each sing some of the songs."
According to White, the new vocalist's reception has been generally positive, marked by the fact Yes' music is incredibly complicated and not something anyone can tackle. "It's a standard of musicianship, and the people we work with have to fit that high standard," he offers. "Not that many people can play Yes music — it's not easy and it speaks for itself."
If there's anyone qualified to give that comment, it's White, who isn't an original member but was officially added to the line-up for the monumental Close To The Edge tour in 1972. The skin slapper was playing for Joe Cocker at the time (with previous credits including John Lennon and George Harrison) and received a call from Yes after drummer Bill Bruford joined King Crimson.
"Chris had seen me two to three weeks prior [with Cocker] and knew I could play [complicated] time signatures," he reminisces, citing the incredibly intricate epic "Siberian Khatru." "I played with the band and I guess I left a mark because they came and asked me to join, plus here I am 36-years later!"
The veteran has plenty of fond memories of that nearly four-decade span, including selling more than 30 million albums and riding the charts with a mixture of art rock pieces throughout the '70s and pop-minded material into the '80s. Though he was completely comfortable making 1974's Tales From Topographic Oceans, White was actually a little apprehensive cutting the Yessongs concert collection shortly after joining.
"I was only in the band three months when we cut that," he shouts with a laugh. "It was really unfair to me playing so much of that inventive and crazy percussion on that album, but it sold really well."
— Andy Argyrakis
For more on what happened after White settled in, grab the December issue of Illinois Entertainer, available free throughout Chicagoland.