Hello, My Name Is David
Q&A With David Grisman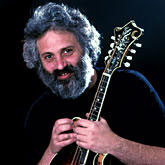 IE: Is there still passionate debate about what does and doesn't constitute bluegrass?
David Grisman: I imagine so, in some circles at least.
IE: Where do you fall on that?
DG: Well I'll go along with Bill Monroe on that, basically an acoustic ensemble of mandolin, guitar, fiddle, five-string banjo, and bass (sometimes dobro or two fiddles, mandolins) with singing (solo, duet, trio, quartet) in the style of the original Bluegrass Boys of 1946, the Stanley Brothers, Jimmy Martin, Osborne Brothers, Reno & Smiley and Jim & Jesse. Already that's pretty general and things change through the years. Having said that, I tend to believe that by the time a "genre" name gets widely circulated, it's too general to have much real meaning.
IE: Was there ever a point when you feared for the survival of acoustic music?
DG: As FDR once put it, "We have nothing to fear but fear itself." If I'm fearful it's about the survival of the human race and its myriad wonderful cultures . . . acoustic music will survive, especially when they pull the plug.
IE: Were genre labels ever an obstacle for you? If so, are they still to any degree?
DG: The labels themselves are not an obstacle. Unfortunately, the "music business" tends to want to typecast artists as only belonging to one category. That's been a problem for me in that I'm mostly typecast as "bluegrass." In another sense, having obstacles will toughen you up. After all, much of life is about meeting challenges, and relatively speaking, music-business challenges are mild compared to many others, so I'm not complaining.
IE: Are there areas the David Grisman Quintet won't venture? If so, what are they?
DG: We're staying away from Greenland, Korea, and the Mid-East right now. Musically, I try to avoid bad intonation, rhythm, and uninspiring material.
IE: What are some of the least obvious influences on DGQ — things you find many people don't hear?
DG: I'm not usually trying to pinpoint my influences, and the least obvious ones — well, they're not that obvious to me either.
David Grisman Quintet plays the Chicago Bluegrass & Blues Festival, November 22nd at Congress Theater. Q&A by Steve Forstneger