Illinois Entertainer Endorses . . .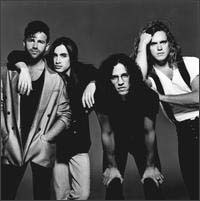 Barack Obama seems the obvious choice, right? He's not only a political son of our great state, but also a proud Hyde Parker. He's not 200-years old, doesn't have a state-trooper-firin', book-bannin', moose-shootin', embarrassingly unqualified VP candidate, and he speaks so well and confidently, we want him to read us to sleep every night. It also seems he's against dropping bombs and imprisoning every A-rab in the world. Nice.
But we're pulling the wildcard, and writing in Gary Cherone and running mate Nuno Bettencourt. It has been some time now, but in 1990 Cherone and Bettencourt laid out an impressive platform on Extreme's "When I'm President." First, Cherone will start a new government, and you can be in his cabinet!
Oh, and this whole Mid-East debacle? The Cherone-led gov will spend all its money to stop the arms race, feed all our brothers in the desert, and enact world peace.
Cherone and Bettencourt '08: Our heaven sent.
Not His Friends, Apparently . . .
John McCain obviously just needs to just stick with Ted Nugent songs. It's hard to believe, after the slew of big-name musicians infuriated by McCain's use of their songs at rallies and fundraisers, nobody in the candidate's camp has said something like, "You know what, Senator? John Mellencamp doesn't share our ideals."
Then again, when your entire staff comprises former D.C. lobbyists, maybe they just don't know better?
McCain has been bombarded by angry rockers (and Bon Jovi) who are upset their songs are being used by the Arizona Senator. Way back in February, when Mellencamp was throwing his support behind John Edwards (nice pick, by the way), McCain used both "Our Country" and "Pink Houses" at rallies; Coug's representatives reportedly "quietly" reached out to McCain and asked he stop. The former song, after all, is for hawking Chevy trucks, not politicians. Dave Grohl and Foo Fighters found themselves in a similar position last month when the band issued a statement denouncing McCain's use of "My Hero," a song it says was "written as a celebration of the common man" and was used "in a manner that perverts the original sentiment."
Heart's Ann and Nancy Wilson and Jackson Browne took the strongest stances so far: Browne is suing McCain for using "Running On Empty" in a commercial (songwriters can sue if a tune is used in a commercial as opposed to a rally, according to some legal mumbo jumbo too boring to explain), and the Wilsons' publishing company sent a cease-and-desist notice because the campaign's continuous use of "Barracuda" at vice-presidential candidate Sarah Palin-featured events. McCain and Palin even have Survivor and Bon Jovi up in arms! Survivor want the campaign to stop blasting "Eye Of The Tiger" at events (no word on Sylvester Stallone's stance), and Bon Jovi is all worked up over Palin's use of "Who Says You Can't Go Home."
. . . But Who Needs 'em?
Let's face the facts, though. These "artists"? Bruce Springsteen? Wilco? Jay-Z? Tom Morello? Freedom-hating, out-of-touch, liberal pussies.
The Republicans have their own star-musician lineup, anyway. Hank Williams Jr. even rewrote "Family Tradition" for the duo, replacing the lyrics "they get on me wanna know Hank, why do you drink?/Hank why do you roll smoke?/Why must you live out the songs that you wrote?" with "John 'n' Sarah tell ya just what they think/and they're not gonna blink/they don't have terrorist friends/to whom their careers are linked." John Rich from country pop duo Big & Rich also penned his own McCain love song, "Raising McCain" ("Now we've got a real man with an American plan/We're going to put him in the big White House"), and in the most bizarre musician-presidential-candidate endorsement ever, reggaeton star Daddy Yankee deemed McCain White House worthy. Too bad he can't legally vote for him, being from Puerto Rico and all.
You want hip, rock-star endorsements? How about Pat Boone and Burt frickin' Bacharach, bitches?
—Trevor Fisher