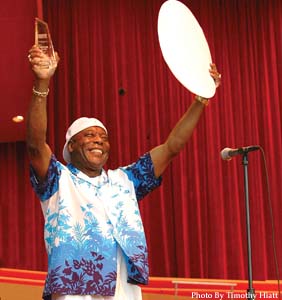 On July 20th in front of an adoring crowd of roughly 4,000 fans, blues icon Buddy Guy took to the stage of Millennium Park's Pritzker Pavilion and received the first annual Great Performer Of Illinois Award. As Chicago Cultural Affairs Commissioner Lois Weisberg presented Guy with the award, the audience exploded into "Buddy! Buddy! Buddy!" shouts, wildly cheering and holding up the large cardboard polka dots cleverly designed for the event. (Guy's black-and-white, polka-dotted guitars have become his signature, and Fender was on hand to present him with a special-edition polka-dotted Stratocaster). He accepted his award on behalf of his mentors and friends, Muddy Waters, Howlin Wolf, Little Walter, Sonny Boy Williamson, and the late, great Junior Wells – "all the guys who helped make Chicago what it is today with the blues."
The tribute concert that followed included special guests Otis Taylor, Artie "Blues Boy" White, Carl Weathersby, Eddy Clearwater, and 9-year-old guitarist Quinn Sullivan backed by Fernando Jones and his Columbia College students. Guy's brother Phil, Lonnie Brooks, and Brooks' sons Ronnie Baker and Wayne Baker were seated stage right but did not perform. Though he wasn't scheduled to play (contractual agreement for his Ravinia concert in late August) Guy got caught in the moment and joined his fellow guitarists briefly, delighting the crowd with a burst of signature riffs.
The night could have ended then, but there was still an hour to go. Jimmie Vaughan and the Tilt-A-Whirl Band, featuring vocalist Lou Ann Barton, took the stage, and the energy level dropped considerably. Vaughan and Barton's American Gothic demeanor seemed to irritate the crowd, who had been so psyched during the first hour. The duo barely acknowledged Guy, and their Texas roadhouse blues had little to do with Chicago. Guy was an influence on Jimmie and his brother, Stevie Ray, but Chicago, not Austin, was where his legacy evolved. The visual of the Austin group commandeering the stage in the presence of legendary Chicagoans the Guys, Clearwater, and the Brookses spoke volumes. Vaughan's performance seemed less of a tribute to Buddy, and more of showcase for himself.
NEW RELEASE: Skin Deep (Zomba/ Silvertone), Guy's latest CD, was released a few days after the ceremony. The album finds Guy in remarkable form as he mines the blues from funky opener, "Best Damn Fool," with its wah-wah groove, to the Waters-inspired slide masterpiece "Out In The Woods," featuring Robert Randolph on steel guitar. Guy duets with singer/guitarist Susan Tedeschi "Too Many Tears," which features her husband Derek Trucks on slide guitar and Guy on the haunting Jerry Jones sitar. "Lyin' Like A Dog" is a sinuous slow blues reminiscent of Stevie Ray Vaughan (via Albert King) followed by "Show Me The Money," a rousing shuffle featuring Bekka Bramlett on background vocals (Bramlett and her famous mother, Bonnie, appear on the title track). Eric Clapton and Guy trade fours on the midtempo, funky, B.B. King-inspired "Every Time I Sing The Blues." Guy pays tribute to his Bayou roots on the traveling song, "That's My Home," featuring Randolph again and Nathan Williams on accordion. The title track is a timely gospel-inspired me-ditation on race (see August "Sweet Home"). "Who's Gonna Fill Those Shoes" has Guy questioning who will carry on the blues legacy left by the pioneers; the aforementioned 9-year-old Sullivan appears on this one. Guy has found a sensitive producer in Tom Hambridge who co-wrote a number of songs and plays drums throughout.
NEW RELEASE PART 2 – CARRYING IT ON: The answer to Guy's musical question above can be found in the new release Eyes Of The City (Rocket-noodle) by master guitarist/vocalist/songwriter/ producer Vince Agwada.
Agwada is an exceptional guitarist who combines technical prowess with soul. Eyes Of The City is a blast of modern and contemporary blues, blues rock, R&B, funk, jazz, and pop that will take you back to the 1975-90 hotbed of live blues in Chicago. From the opener, "It's A Shame" (a funky groove featuring Agwada's flawless fretwork and dead-on lyrics, including a rap), to the closer, the title track (a sophisticated jazz/pop tune reminiscent of a smoky '70s film noir soundtrack), Agwada and company smoke and burn through 12 originals and one cover, John Hiatt's "Confidence Man."
I first heard Agwada play in Toronto in the early '80s when he was on tour with Guy. Once a staple on the worldwide scene, Agwada retired from the road for a number of years to work in the studio, where he honed his technical chops at Chicago Trax. He has returned to performing with a vengeance on this, his first solo album, where he is accompanied by the best musicians of his generation. Harp guru Sugar Blue (who lives in Milan) guests on rocker "Rain," and Bill McFarland And The Chicago Horns appear on the jazzy, "Does It Really Matter?"
Agwada is a fully realized musician who brings his creativity to whatever genre he plays. He came of age at heady time in American music, when various musical styles co-existed. Eyes Of The City is at once an homage to this musical potpourri and a welcome return to the present of this gifted artist.
– Beverly Zeldin-Palmer
Category: Columns, Monthly, Sweet Home