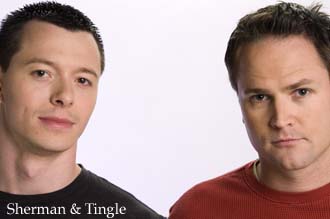 For WKQK-FM 101.1 listeners, the morning drive is now an awful lot like the afternoon drive.
On August 11th, the former afternoon team of Brian Sherman and Steve Tingle took over the morning slot after Alan Cox and Jim Lynam's "The Morning Fix" was given the ax. Program Director Marc Young (mistakenly identified as "Mac" in the print edition) promised listeners via a Web post that they would "get the same great show [they've] come to expect in the afternoon: 'Taps At The Tens' and 'Trash At The Thirties' every weekday starting at [6 a.m.]."
The debut "Sherman And Tingle" morning show, an afternoon fixture since spring 2007, kept to that simple formula, sticking mostly to playing alternative rock from the past two decades (Red Hot Chili Peppers, Bush, Rage Against The Machine, Gnarls Barkley, The White Stripes, Weezer, and Smashing Pumpkins). Between songs the duo kept the banter brief, at one point ruminating on which celebrity would die next, given the deaths of Bernie Mac and Isaac Hayes and the superstition that celebrity deaths happen in clusters of threes, a topical subject for what passes for edgy humor on terrestrial radio. (Michael Jackson was nominated as the next to go, by the way.) For a "Phone Tap," show character Clairissa Jenkins, pretending to be an insurance agent, pranked a listener's roommate and told her she couldn't keep her gay-pride rainbow stickers on her car anymore. One topic for the "Trash At The Thirties" segment allowed a listener to call out his buddies who wanted their wives to join their fantasy-football league. Paul The Perve delivered the not-so-helpful traffic report, and Taryn Levesque chimed in with music news. The song selections and humor topics suggest the show is targeting aging grungsters.
SATELLITE SYNDICATE: Regular Chicago radio listeners who prefer less music and more zaniness haven't had a decent alternative rock morning show since Erich "Mancow" Muller's ousting from Q101 in 2006, but Sirius satellite radio listeners who followed Howard Stern's migration have. For about two-and-a-half years now, Stern has been free to explore his actual edgy humor and scathing social commentary on satellite airwaves. Stern sidekick and comedian Artie Lange's deteriorating physical condition and admitted drug use has been mined for humor and grim fascination for months now. Stern's planned marriage to longtime girlfriend Beth Ostrosky has balanced the show and allows the host to do what he does best: hold up his life and actions as an entertaining hook for vicarious listeners.
The future for satellite radio got a boost on July 29th when the U.S. Federal Communications Commission approved the merger between XM Radio and Sirius. Mel Karmazin, CEO of the newly formed Sirius XM Radio Inc., spoke to Stern in early August. While not completely forthcoming with details, Karmazin did say the basic subscription prices of XM and Sirius would not increase and the hardware would not turn obsolete. He pointed out XM and Sirius receivers have been placed in millions of new cars, a virtual promise the receivers would continue to work for the life of the car regardless of any merger-induced changes. He also said once the details are worked out, current Sirius customers, estimated to be 9.5 million, would be able to add channels from XM – Major League Baseball broadcasts, for example – for a yet-to-be-determined subscription increase. The same holds true for current XM customers, estimated to be 9 million, who would be able to add Sirius channels (including Stern's) for a similar increase. After this appearance on Stern's show, Karmazin was in a spending mood. Bloomberg reported on August 4th that the media mogul bought 2 million shares of Sirius XM, bringing his total investment to $11.8 million. The stock was hovering around $1.40 a share in mid-August.
Sirius customers have had to deal with a minor headache as a result of the merger. The output of the FM transmitter (which allows the receiver to operate wirelessly through a car radio) exceeds the limits established by the FCC and therefore causes interference with other nearby radios. A recent letter sent to Sirius customers promises no health concerns and offers multiple solutions to the FCC violations, one of which requires professional installation at the company's expense. That can't be good for the stock price.
CHOPPING BLOCK: The cutbacks in newsroom personnel and page count at the Chicago Tribune are seen in the paper's slimmed-down redesign, utilizing briefer stories and more informational graphics. "Nation Briefing" and "World Briefing" pages inside the main section chop the day's news into the bare facts, with simple maps of where the action is taking place. Columnist John Kass – a crusader against City Hall corruption – provided a bright spot in coverage recently, effectively making news happen when he wrote a front page column revealing a top official for the Chicago Aviation Department received a personal electric generator from ComEd when storms knocked out power to his neighborhood in August. Neighbors ratted him out to Kass, who showed up at Dave Ochal's house with WGN cameras in tow. Kass previously criticized Ochal in print after the city employee allegedly had a pool built in his backyard without obtaining the proper permits. Although Ochal was cleared of any wrong-doing in the "Pool Boy" crisis, Kass ultimately prevailed in the generator fiasco when Ochal resigned his post, according to a August 9th story in the Tribune.
– Jason Scales