ilentertainer | Jul 09, 2008 | Comments 10
Joan Jett And The Blackhearts
Rib-Fest, Naperville
Saturday, July 5, 2008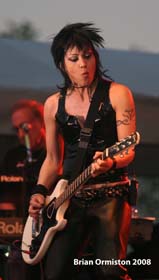 At nearly 50, Joan Jett can be considered a rock 'n' roll cougar.
Taking the stage at Naperville's Rib-Fest Saturday night, the gum-chewing, leather-clad rocker cranked out a P.G. show that touched on all the old standbys. Slipping in a few new songs and touting a new disc, Sinner, she generally looked like she was having a good time.
Playing before a mostly low-key suburban crowd isn't the rock tours of the '80s, but many there weren't even born when "I Love Rock 'N Roll" topped the charts in 1981. Saturday's crowd had the usual first couple of rows of hardcore fans. And yes, there was the representative group of black-leather bikers in bandannas to complement the Blackhearts' dark garb. But the balance was a mix of blanket-lying, kid-towing, lawn-chair-sitting suburbanites munching on ribs.
For Jett, the bad-girl image of her screaming guitar while strutting on top of a bar is gone. When red Gatorade replaces the adult beverage of choice on stage, well, you know, it just doesn't look the same. Throughout the show, her guitar skills were never in question. The Blackhearts did well to complement her, pounding out a live show that sounded as good as a studio album.
Lean and buffed, she has weathered the many years on the road just fine. In fact, cover up a few of the arm tats, toss on a pair of shorts, and I'd bet she could walk into any Starbucks in Naperville and blend right in.
– Brian Ormiston
Filed Under: Live Reviews • Weekly
About the Author:
Comments (10)