Look no further than our own city and sprawling suburbs for proof of just how extensive this whole thrash revival thing is. Do a quick Myspace, "Illinois metal" search, and you'll find a list of Chicagoland bands like Degradation, Infinite Missiles, Air Raid, Vicious Attack, Diamond Plate, Sulfox, and Slayasylum. They vary in quality, of course, but the one common element is they're all relatively young and hooked on old-school thrash.
They've got the Jackson guitars, the cut-off denim jackets, the Exhumer patches, the tight, black jeans, and sometimes even the Zack Morris hi-tops. They've got everything, it seems, but our community's full support. The only thing some purists hate more than nu thrash is "hipster metal" like The Sword and Early Man, and it's tough to understand why.
If it were as simple as over-saturation or just plain shitty music, I'd see. There are a lot of these bands around, but when is there such thing as too much metal? They aren't all so good, either, but for every bad one there's also a Dekapitator, Evile, or Hatchet (who released their Metal Blade debut, Awaiting Evil, in late May), who are good. Very good.
Of course, if you'd rather just have the original thing, that's understandable. Unless you classify Skeletonwitch as "thrash revival" – I don't – none of these bands have come up with anything close to Testament's new album, Formation Of Damnation, for example. Why fuck with the newbies when the old timers still do it better?
I get that.
Hating on a 17-year-old kid based on some elitist rationale that his intentions aren't pure because he's still in high school? I don't get that. None of the members of Chicago-based Bloodrunner, for example, are older than 19, but I don't think Total Annihilation is a bad album for it. I think they too often settle for sounding, and acting, like Municipal Waste, but they can still flat-out rip. My guess is guitarists Neal Rodriguez and Kyle Hickey can out-play 90-percent of the people who talk shit because Bloodrunner weren't born when Bonded By Blood was released.
Their problem isn't age, you see, it's songwriting.
BERSERKERS: It has been more than 1,000 years since Olav Tryggvason landed in Norway, claimed the throne, and introduced Christianity, and some Scandinavians are still bitter.
Get over it? No way. Then we wouldn't have awesome Viking metal albums like Tyr's Land and Grand Magus' Iron Will.
While some of their Scandinavian black metal brethern's hostility can be aimless and juvenile, there's a certain elegance to the disdain of the more traditional-based Viking metal bands like Tyr and Grand Magus. Maybe it's the clean vocals, the underlying folk influences, or the bouncy rhythms, but I definitely want to grab a broad sword and pile into a long boat for some good old-fashioned pillaging when listening to these two albums. I never wanted to burn a church after listening to Mayhem.
Tyr aren't as concerned with Tryggvason on Land (Napalm) as they are with Sigmundur Brestisson, a Tryggvason crony who was, as the Færeyinga Saga goes, the first Faroe (The Faroes are Tyr's home; their 2003 album, Eric The Red, is the Islands' best-selling album ever!) man to convert to Christianity. Opening track "Gandkvædi Tróndar" (the lyrics are the words to a poem by J.H.O. Djurhuus) is about the other central character in the Saga, Tróndur í Gøtu, the Faroe chieftain given the choice by Brestisson of accepting the Christian faith or accepting decapitation. Though he chose Christianity, Gøtu fought acrimoniously for the preservation of their Norse Pagan heritage and earned folk-hero status in the minds of natives like Tyr frontman/guitarist/songwriter Heri Joensen. It's Wikipedia with a metal soundtrack. Hail to the hammer!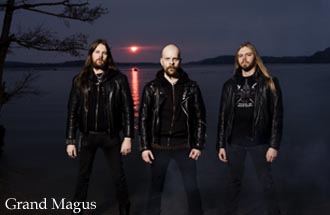 Sweden's Grand Magus are less folk flair (though the mandolin is used to great effect on "Like The Oar Strikes The Water" and "Silver Into Steel") and more riff-reared on Iron Will (July 8th; Rise Above), but no less heathenistic, luckily ("Define your life with religion/and sell your sword/You put our trust in your holy man," singer/guitarist Janne Christoffersson (Spiritual Beggars) says on "Like The Oar Strikes The Water"). Magus just take a more "classic metal" approach by building songs like "Fear Is The Key" and "The Shadow Knows" around Christoffersson's big riffs and even bigger voice. They're Judas Priest, but with chainmail and battle-axes instead of leather and whips.
WHAT HAPPENED, MAX?: Roadrunner is pushing Soulfly's Conquer (July 29th) as "probably their best and most brutal album" since their 1998 debut. The brutal claim may or may not be accurate, but they should probably replace "best" with "boring." Not "bad," mind you, just plain ol' blah. Soulfly frontman Max Cavalera's long-anticipated reunion this year with brother and Sepultura co-founder Iggor on Cavalera Conspiracy's Inflikted was hugely disappointing because the album sounded rushed and half-baked. Maybe the brothers, who hadn't spoken in something like a decade, were so happy to be working together again they just wanted to get something out there. Whatever the reason, it wasn't because Max was devoting too much time to Soulfly, because Conquer suffers from the exact same ailment – it sounds thrown together. There's little to be excited about here besides the Sabbath homage, "Touching The Void," and Max's collaboration with Morbid Angel's David Vincent on "Blood Fire War Hate."
This is not the best Soulfly album since their debut. It's not even the best Soulfly album this decade; both 2004's Prophecy and (especially) 2005's Dark Ages are much stronger.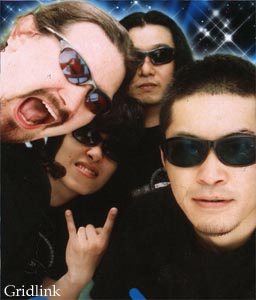 SLOW & LOW: Apparently, there is such a thing as "extreme" doom metal. I didn't know that until recently, but I guess if any band earn such a title it's Moss, whose Sub Templum (July 8th; Rise Above) is the slowest, gloomiest, most depressing album I've heard. I truly have no clue what vocalist Olly Pearson is howling about on the album's four tracks and 80 druggy minutes, but it isn't kitties and rainbows. In fact, Pearson, guitarist Dominic Finbow, and drummer Chris Chantler (who can probably have a smoke, grab a sandwich, and get his car washed between his cymbal crashes on "Subterraen") must be the most miserable sons of bitches in the world – listening to Sub Templum makes me want to send them a fruit bouquet and a gift certificate to Build-A-Bear Workshop. To put things in perspective, you can listen to Gridlink's Amber Gray (Hydra Head) nearly three times in its entirety during Moss' "Gate III: Devils From The Outer Dark" alone. Led by Discordance Axis mastermind Jon Chang, Amber Gray is no-nonsense, old-school-Napalm Death-influenced grindcore at its purest. Leave your CD player during this album for a post-lunch number two, like I did, and it will be finished before you.
I'm more than happy to leave you with that.
mosh@illinoisentertainer.com
– Trevor Fisher
Category: Caught In A Mosh, Columns, Monthly