RZA
Self Taught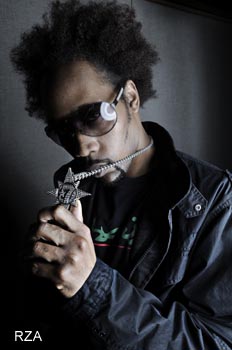 Robert Diggs isn't one to wait around to be directed and shown how to achieve something. If this producer/MC/composer best known as RZA is curious about picking up a craft, he is often his own teacher.
Appearing: Tuesday, July 1st at House Of Blues in Chicago.
With his initiative, RZA became known in the early '90s as "The Abbot" of the Staten Island hip-hop collective Wu-Tang Clan — the nine-man group whose style was equally inspired by the sounds of old Kung Fu movies and the strife of the streets. While he drew mixed reactions from fans and even some of his fellow group members for the orchestral-styled production on the most recent Wu-Tang album, 8 Diagrams (Universal Motown), it's hard to deny the man's imagination and self-sufficient stature. RZA was born to be his own boss. The Brooklyn-born auteur has taught himself how to produce, manage a group, play guitar, and, most recently, how to compose a film score.
Although it wasn't until he began acting that RZA took a step back from the captain's chair and allowed himself to be directed. The first film he crafted a score for, 1999's Ghost Dog: The Way of The Samurai (Razor Sharp), was also one of his first acting experiences. While he has gone on to nab much bigger parts — most visibly playing a cop named Moses Jones in Ridley Scott's 2007 blockbuster, American Gangster. And, by 2009, he'll be starring in three more high-profile films.
Because RZA is so accustomed to being the one calling the shots, it seems obvious to ask him about the difference being an actor under close direction of the legendary Ridley Scott.
"On the movie set, I'm just one of the many hundreds of people that's involved in making this great piece of art," he explains. "I'm just a small piece of a puzzle, but an important piece. One thing about a movie, man: Every piece is important. In the studio every piece ain't important. Some people are just bullshitting in there eating potato chips and drinking liquor," RZA laughs. "It's a totally different world."
In reality, though, RZA doesn't mind a little bullshitting in the studio. Of course, when it comes to fine tuning and mastering projects, he mostly prefers solitude. But hanging out and drinking with friends is in part what sparks concepts for his music.
"Music is created more in a spiritual atmosphere, a happy atmosphere — a fluent atmosphere whereas movies are not," he says. "Movies are a medium — you gotta transpose yourself, transform yourself. I've never been high on a movie set, yo; in the studio, I've never been sober [laughs]."
Getting wasted in the studio with his friends explains why RZA's new solo album as Bobby Digital, Digi Snacks (Koch), is so fluid. And despite what he previously said about acting, when recording under his Bobby Digital alter ego, he sometimes does transform himself on record. On Digi Snacks, the third incarnation of the character, he jumps from pure introspection to imaginative wordplay and narratives. On the lead single, "You Can't Stop Me Now," he recalls the resourcefulness of the Wu-Tang Clan in its early days; then on "Digi Snacks/Booby Traps," he zones out into a freestyle-like session making references to Gremlins, Star Wars, and X-Men.
"I think I fall into the character," RZA explains of the album. "All throughout the Bobby Digital albums I ain't gonna deny it, I get tore up in that studio. I may be drunk until I pass out sometimes. I just go — we just go. When I do a Bobby Digital album, it's fun in the studio — trust me."
For RZA, fun doesn't just mean bugging out lyrically. With the help of the late George Harrison's son, Dhani, Shavo Odadjian from System Of A Down, future-soul group Stone Mecca, and many other guests, he makes music that doesn't entirely resemble early Wu-Tang material, though it's just as audacious. The process of choosing his collaborators is simply a matter of RZA looking at those in his immediate creative circle. It's people like Dhani Harrison, who last year helped RZA create the Beatles-inspired Wu-Tang single "The Heart Gently Weeps," that the producer called upon.
"These are the people I've been around a lot for the last three years," RZA says of the collaborators. "They're my friends actually. Everybody on this record is either my friend or people I've been [hanging] around."
— Max Herman
For more on what RZA's solo/Wu split is, grab the July issue of Illinois Entertainer, available free throughout Chicagoland.