Bell X1, Brooke Waggoner
Empty Bottle, Chicago
Wednesday, May 28, 2008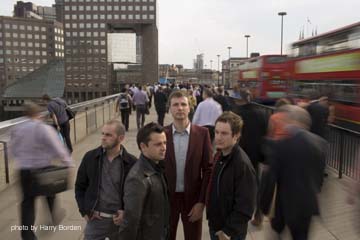 Back home, Ireland's Bell X1 enjoy the prestige of being labeled a stadium act. On the band's second American outing in only the last three months, the size of the rooms might be smaller than those normally afforded chart-topping artists — kinda like driving a Saturn after leasing a Lexus — yet the size of the disruptive Paddy contingent remains static no matter the continent.
Yelping at frontman Paul Noonan to "give us a wave," warbling out of synch to the slowest, hushed numbers, and snapping photos of everyone but the act on stage increased in scope as the night wore on. C'mon lads, it's not a football game.
Surely not every native Irishman in the joint copped to this behavior, but this showboating, coupled with the intimate surroundings of the Empty Bottle, threatened to tarnish the memory of the band's triumphant Midwest debut at Schubas this past March.
Fortunately, Noonan, multi-instrumentalists David Geraghty and Brian Crosby, bassist Dominic Phillips, and drummer Tim O'Donovan paid little mind to the punters and covered the essential milestones of the platinum-selling Flock (finally released Stateside by Yep Roc in 2008) and 2003's Music In Mouth.
Lanky, with herky jerky, David Byrne dance moves, Noonan wailed on timbales during an equally electric "My Firstborn For A Song," commandeered a plastic ear of corn for percussive purposes on "Snakes And Snakes" (the ebullient, real-life equivalent of Milton Bradley's "Chutes And Ladders"), and stole the affections of every girl in the room with the utterly romantic "I'll See Your Heart And I'll Raise You Mine."
More reserved than gushing Oscar-winning countryman Glen Hansard and his band of merry players, Bell X1 nonetheless tore up the floor and maybe heralded in the second coming of disco with "Flame."
Playing yin to Noonan's yang, Geraghty took lead vocals on "Trampoline," making a case for his solo album, Kill Your Darlings, before jumpstarting "Tongue" with a chainsaw guitar riff — the night's only selection from the band's days as Juniper, before schoolmate Damien Rice left to pursue a solo career.
Despite the intervening years, Bell X1 look poised to catch up to their former bandmate's North American success.
An embattled Brooke Waggoner kicked off the night with eight piano- and cello-laden compositions alternating between selections from her forthcoming full-length debut, Heal For The Honey, and free-download Fresh Pair Of Eyes EP. Vocally akin to Tegan minus Sara, Waggoner's angular, child-like crooning usurped the mesmerizing melodies of "Hush If You Must" and "Come Love, See My Hands."
— Janine Schaults
Category: Live Reviews, Weekly