The Myriad
Park West, Chicago
Friday, May 2, 2008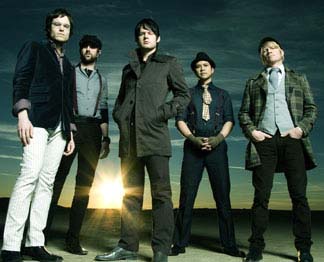 Despite the band's name, The Myriad fail to encapsulate a wide variety of styles and influences on With Arrows, With Poise (Koch). The Seattle-based quartet must have latched on to English atmospheric rockers Muse a few years ago and just never let go, which isn't altogether a bad thing, but causes the album's 12 tracks to bleed into each other without much fanfare.
Arrows, the band's sophomore effort, combines epochal guitars with frontman Jeremy Edwardson's bombastic vocals. The over-the-top adrenaline running through each track would likely find a nice home in the two upcoming Marvel Comics summer blockbusters, Iron Man and The Incredible Hulk. It's not hard to imagine the computer-generated green giant stomping down the streets of New York City to the sounds of "The Accident" or Robert Downey Jr. soaring in a tin suit with "Get On The Plane" as a sonic backdrop.
A hit with the MTV crowd, The Myriad also call Smashing Pumpkins mastermind Billy Corgan a fan. Maybe baldy really gets down to "A Clean Shot," certainly the band's centerpiece. On this song alone it seems Edwardson and co. found themselves on The Killers' turf in Vegas. It's good to get out in the sun.
Eisley headline; Vedera and The Envy Corps open.
— Janine Schaults
Category: Stage Buzz, Weekly