Panic At The Disco
No Exclamation Reqired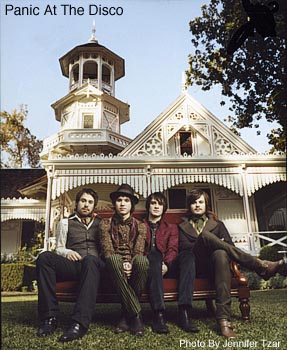 For the particularly ghoulish among you, the British video is still floating around on You Tube, as creepy as it was when it was first filmed in the summer of '06. It's a particularly chilling clip from that year's Reading Festival, showing ebony-garbed, eyelinered Panic At The Disco frontman Brendon Urie strutting onstage, launching into a droning emocore song alongside guitarist Ryan Ross, and . . . promptly getting beaned with a full beer bottle thrown from a decidedly anti-emo segment of the audience. We're talking unconscious. Out. Cold. It wasn't quite the warm U.K. welcome the then-teenage members were expecting. And it could've easily killed poor Urie, who was hastily dragged offstage to recover.
Appearing: May 23rd & 24th at Congress Theatre in Chicago.
Bloodied but unbowed, the singer returned a few minutes later to pick up right where he left off. "And it had happened on the first song, 20 seconds in," shivers Ross, now a wise old 21. "And we were just like, 'Wow. This is what it's gonna be like.' But it seemed a lot worse to us right when it happened. And honestly, there were maybe 50 to 100 people throwing stuff out of 50,000. And at first, we wanted to blame the whole crowd, but then we kinda realized that it was such a small amount of people who were actually giving us a hard time, so we finished the set. And after that, no one threw a bottle for the rest of the whole tour. So it was a bad thing to have happen, but I think the fact that we just kept going made it more like a trial for us to get through."
Not an easy thing to do — stare out into a crowd and sense nothing but overwhelming hate radiating back. But that was the kind of reaction Panic — which then punctuated its moniker with a pretentious exclamation mark — had started to inspire in some circles with its platinum-selling A Fever You Can't Sweat Out debut on Pete Wentz's hip Decaydence imprint, distributed by the even-hipper Fueled By Ramen. But the group has already learned a lesson it takes most artists years to comprehend: Don't like your current sound or image? You can always reinvent yourself. Ergo, even the drunkest overseas lager lout will do a dumbfounded double-take over Pretty. Odd, PATD's eclectic, remarkably mature new followup, which bounds giddily through styles like folk, R&B, power-pop, psychedelia, even a horn-and-symphony-buttressed spin on Sgt. Pepper via its irresistibly catchy flagship single, "Nine In The Afternoon." So why lob that bottle when you should lift it in job-well-done respect instead?
The emo movement? "I think that whole scene is about to be completely dead," pronounces Ross, who has been studying classic rock composers like Dylan, Queen, The Beach Boys, and David Bowie the past two years to arrive at Pretty. Odd. "I think kids are gonna look for real rock 'n' roll again, because everything's gotten so saturated with bullshit that I think people are hopefully gonna start seeing through all that." Even getting saddled with the emo label, he adds, "was always weird for us. But I guess it's sorta that guilty-by-association kinda thing, like the connotations that go along with the record label we were signed to and things like that. But it was really strange and frustrating for us, because we honestly felt like — because of that — we weren't really fitting into anything at all. We weren't really that, and we weren't really this, so it was bad and good, in a way. Because feeling like that allowed us to keep doing whatever it was that we wanted without trying to adhere to any certain kind of scene."
Goodbye, dreaded Emo. And hello to . . . what, exactly? Pretty. Odd opens with a campy, tongue-in-cheek disclaimer from this Las Vegas quartet, "We're So Starving," which assures fans "You don't have to worry because we're still the same band." Then they spend the rest of the frothy set proving that they're not; "I Have Friends In Holy Spaces" has a scratchy Victrola/vaudeville aura; "Northern Downpour" taps into vintage folk; "Behind The Sea" feels like an old Beatles outtake; "Folkin' Around" is a genuine yee-haw hoedown; "She Had The World" could pass for an 18th-century harpsichord minuet; and "The Green Gentleman (Things Have Changed)" actually revolves around a bell-chiming backdrop. All, of course, sung in Urie's inimitable nasal vibrato, fast becoming one of the most remarkable voices in modern rock.
"When Brendon joined the band, we were only 17," recalls Ross. "But we'd never heard a kid who could sing like that. Ever. So he was a really good find." And he's still baffled that folks haven't caught on to the group's ribald sense of humor, a la "We're So Starving." "It's funny how many reviews I read where the journalist just did not get the joke. They're like, 'This is the most pretentious track I've heard in years!' And we're like, 'You really thought we were serious with that?' So we still get misunderstood quite a bit."
— Tom Lanham
To find out how misunderstood, grab the May issue of Illinois Entertainer, available free throughout Chicagoland.