Jason Miles & DJ Logic
Global Noize
(Shanachie)
Fusion/bop veteran Jason Miles and the man largely credited with funneling jazz into early hip-hop, DJ Logic, are joined by Meshell Ndegeocello, John Popper, Vernon Reid, Bernie Worrell, and more in a largely frustrating, bland world blend.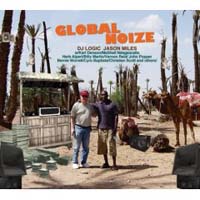 Miles' jazz-pop CV and Logic's induction to the world of Medeski, Martin & Wood would theoretically produce a benign album — and ostensibly temper any hostile reaction to such. But the urbanized spelling of Noize implies more than textural scratching and lite funk or this absolute waste of a guest list. All Miles and Logic deliver is a soundtrack to a Benetton shopping spree, as gallingly "one world" as titles like "Spice Island," "Planetary Beat," and "Exotic Thoughts" would suggest. The lone hope is the 107 seconds of "Bollywood," which poisons the cruise-ship buffet with a twisted, molten bassline. Otherwise, venture forth to white sandy beaches and try not to step on any starving locals.
2
— Steve Forstneger