At this point in the game, predicting the continual advent of the next generation of Chicago hip-hop talent is hardly a new or groundbreaking call. Nearly every music magazine in the country has written about at least some, if not the majority of the talent that has emerged the last few years. In fact, many of said features lump the talent together, with single articles being utilized to focus on a diverse array of artists.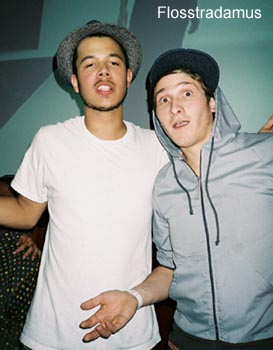 Which, on some levels, could seem like a lazy move — bunch all the under-30 alt-appealing hip-hop outfits together into one easy category. Yet last week, over the course of two back-to-back evenings both featuring local DJ duo Flosstradamus, the unity of the scene came into focus, and made the grouping together of Chicago's next wave of hip-hop heroes at least slightly more forgivable.
w/ Kid Sister, DJ Chuck Inglish
Underground, Chicago
Thursday, April 22, 2008
Thursday's late-night performance at packed downtown hotspot Underground found Flosstradamus DJing before a Kid Sister live performance, herself the actual sister of Flossy D's Josh "J2K" Young. It was a mixed crowd, with the usual colorful Floss'ers holding it down at the front of the house, while the more detached, popped-collar regulars of Underground floated in the back and closer to the bar. The mix of both the former and the latter may have explained some of the selections in Cool Kid Chuck Inglish's early DJ set, itself full of crowd-pleasing but still credible hits from Kanye and Justin, alongside safe bets like Fergie and Snoop's sublimely excellent "Sexual Eruption."
All of which was merely warm-up for the night's main events. Shortly after midnight, Flosstradamus (J2K and Curt "Autobot" Cameruci) stepped behind their laptops and mixers, kicking off a pastiche of hip-hop and dance tracks, with brief traces of juke, house, Latin, electro, and indie swirling in and out of the mix. While the pair's set didn't venture into the frequently-surprising experimental realms past Town Hall Pub residency sets once did (where left-field surprises like The Beach Boys snuck in), it's likely sets like those will surface during more personal performances. Thursday night, however, the group's mix found a formula that struck a chord with all in attendance.
If a Chicago Flosstradamus performance is less commonplace now than it was a year ago, a live set from Melissa "Kid Sister" Young is practically a rarity. Set to release her debut record, Koko B. Ware, in the summer, the hype behind Kid Sis has been building for some time on prominent blogs. By the time she and sibling J2K took to the stage together (with Autobot tending to the mix via decks and laptops behind them), the club-going crowd was swarming to the stage. What ensued was a fast and loose set, fueled by raw energy, and with no shortage of spontaneous hamming.
The majority of the set featured J2K filling in for the male vocals throughout most of Kid Sis' catalog, such as the widely recognized blog-hit "Control." The focal point, though, was Kid Sister herself, whose unpolished flow avoided any sort of formula and instead came off authentic, as evidenced on songs like "Beeper." It was during the high-profile "Pro Nails," however, that the bigger picture came into focus, as Kid Sis gave a shout-out to the recorded version of the song's guest rapper, fellow south sider Kanye West. It was a gesture made all the more fitting by the fact, as Flosstradamus re-took the stage following Kid Sis' set, the duo restarted with West's "Flashing Lights." At that moment, the fame-documenting hit couldn't have seemed more prophetic.
w/ Cool Kids, DJ Kid Color, Treaty Of Paris
Conway Center, Columbia College, Chicago
Friday, April 25, 2008
"Columbia college did not party like this when I went here. This shit's crazy!" exclaimed Autobot at the beginning of the pair's Friday night set. (It's a sentiment this Columbia alum can back). Appearing at an early, student-friendly affair in Columbia College's Conway Center — itself not an unimpressive venue for a respectable student gathering — the duo found themselves once again performing alongside quickly rising Chicago talent. This time, the highly-touted and oft-hyped Cool Kids, newcomer indie/electro-glitch DJ Kid Color, and the markedly non-urban local pop-rock outfit Treaty Of Paris. To their credit, Treaty Of Paris refused to let their puzzling billing throw them, doing their best to make their bouncy brand of sugary melodies not only into crossover fare, but danceable, to boot. During moments like ultra-hooky "Rollerskates" as well as the crunchier "Waking Up The Dead," it appeared they just might have succeeded.
The pop vibe carried over to the evening's Flosstradamus set, as J2K and Autobot delivered a crowd-pleasing set of surefire hits, ranging from an alternating hyped-up and a cappella "Bombs Over Baghdad" to guaranteed crowd-pleaser "Jump Around." It was a set unmistakably constructed for the night's younger crowd of enthusiastic and colorful hip(hop)sters, whereas Thursday's mixes delved primarily in harder, clubbier sounds. For the most part, the set remained in the alternative arena, from a sped-up declarative version of Daft Punk favorite "One More Time" to a well-timed version of Beastie Boys' "Intergalactic," with plenty of drop-outs, to the tense, teased breakdown of "Smack My Bitch Up." Of course, the pair were not above a little self-promotion, dropping in their own remix of Matt & Kim's "Yea Yeah," as well as offering a twist on old favorite "Overnight Star," the Twista/Sigur Rós mash that helped launch Flosstradamus a few years back, this time laying Alice Deejay's classic "Better Off Alone" under Twista's "Overnight Celebrity." The only notable misstep of the evening would have to have been the inclusion of Papa Roach's "Last Resort." Under no circumstances do Papa Roach and their music belong at a dance party.
A group who did have a place that evening, however, were show closers Cool Kids, who received the most fevered response. If Kid Sister is sugar-coated hipster-pop, Cool Kids aren't as immediately accessible, but are all the more intriguing for it. Considerably raw and definitively harder than the rest of the evening's talent, the duo of Mikey Rocks and Chuck Inglish delved into a busy and relentless set for the venue's faithful attendees. Despite not having a proper record out (which seemingly means less and less in the age of blogs), the crowd instantly recognized practically every song the pair brought out. Not that Cool Kids' catalog is entirely unknown to even a casual club-goer at this point. Songs like the low and heavy industry favorite "Gold And A Pager" set the tone for the evening, while the minimalist and gritty "Black Mags" stood out as an obvious fan favorite, due undoubtably in no small part to the track's massively-viewed viral video. Elsewhere, the fuzzed out "I'm Mikey" prompted a call and response with the audience, while "A Little Bit Cooler" demonstrated a less serious side.
Overall, the two nights of Chicago's up-and-coming talent demonstrated just how different many of the bigger names from the city really are. Yet, at the same time, the single articles that lump the artists all together can almost be forgiven. After all, isn't that what has happened here? Ultimately, the likes of Flosstradamus, Kid Sister, and Cool Kids are representing a unified scene. More importantly, however, the nights served as a reminder of the increasingly speedy rise all three acts are set upon. With records set for release from Flossy, Kid Sis, and Cool Kids this year, more accessible shows at smaller Chicago nightclubs and college events may become a thing of the past as the artists reach new heights. All the more reason to catch them like this while you can.
— Jaime de'Medici
Category: Live Reviews, Weekly