Ministry
Jour Gonna Miss Me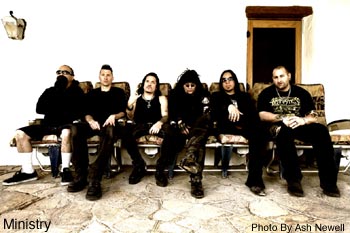 On a sultry August 18th, 1995, Chicagoans and pilgrims stuffed the Riviera Theatre for a last chance to catch the Ramones live. Opening act Gren, a grunge-era also-ran, had the word "ignored" redefined for them while all anyone wanted to hear was that iconic "One! Two! Three! Four!" 30 more times. As victory lap/farewell tours went, the Ramones were able to close on a giddy high. Finality never felt so good – so they did it again.
Appearing: May 8th through 11th at House Of Blues in Chicago.
The Ramones extended the calendar another year, returned to Chicago, and, had Joey not gotten sick, it's reasonable to assume they'd have been back again. It's different from what The Police and Led Zeppelin have done. Those hadn't retired — merely disbanded. The Ramones, Ozzy Osbourne, Kiss, and Cher all proclaimed, "Buy tickets because this is the last tour," lied, and sold tickets for another farewell the next summer.
And we should believe Al Jourgensen why, exactly?
"It doesn't make sense anymore," he says. "And at 50 I'm a little bit over the whole 'rock touring' thing. In my 20s and 30s: fine. That was a gas and I'm glad I did it, but I'm a little over it."
So on May 8th, 9th, and 10th (Do we hear an 11th? Yes!) Ministry, the outlet Jourgensen begat in 1981, will play "their" final hometown shows. The C U La Tour is it, folks. A sign hangs out front that reads "Seniors and gold watches welcome."
Of course, Jourgensen isn't personally retiring from the stage — Ministry are. And he's almost excited about it.
"I'm doing soundtracks," he says over red wine and Winstons in a Hard Rock Hotel suite. "I'm busier now than I've ever been in my entire life. Ministry takes up too much time. It's like six-months press, a year of touring, a year in the studio — it's two-and-a-half years before you look up and you've done nothing but Ministry. I've got five other bands on the label, I own a recording studio, this and that, so much stuff to do."
But first, the morning of this interview Jourgensen and wife Angie got up at dawn for radio promotion on WQKX-FM (101.1) technically for Ministry, but really for his true love: The Chicago Blackhawks. "Keys To The City," a thrashing, Gary Glitter-esque ode to the turned-around franchise, debuted to alleged raves from callers seeking more of the throaty call to arms "Let's go Blackhawks!"
Rock 'n' roll has an uncommonly cozy relationship with hockey: The Dallas Stars famously dented the Stanley Cup at a party with the members of Pantera; this spring Darkest Hour recorded a song for the Washington Capitals' playoff push; and Megadeth wrote the sublimely awful "Crush 'Em" for the Phoenix Coyotes. (Keen to perpetuate his feud with Megadeth's Dave Mustaine, he sneers, "['Crush 'Em']'s bad? That's good. I didn't even know [he] had done that. I really have a lot of disdain for Mustaine. I don't like the Coyotes, either.") Far from trendy, Jourgensen and the 'Hawks have been courting for years. After reapproaching an unfinished song he didn't feel was Ministry-enough, he was able to hand "Keys" off to chairman Rocky Wirtz's son Danny, who helped unlock approval from team president John McDonough, and, significantly to Jourgensen, the players.
"They haven't had anything [new] since 'Here Come The Hawks,'" he laughs. "Same thing with the Cubs: All these lame '50s songs for our sports teams. I said, 'I don't want to do it unless the players like it.' And so they played it for the players before a game and they went nuts on it — that was important to me. We just gave 'em the song and told them all [proceeds] go to Blackhawk Charities — I guess they'll be selling it at the games. I don't see a dime. I get free drinks and a free hockey ticket when I'm in town. That's about it. But it's great. I'm glad to be able to give back to that family because they've always been really, really good to Ministry."
The song met United Center crowds during a Blackhawk victory over the Anaheim Ducks (unfortunately not Vancouver's Canucks, who share a hometown with Angie Jourgensen and "Keys" vocalist/new Revolting Cocks member Josh Bradford). Al Jourgensen and Cheap Trick's Rick Nielsen both failed during the intermission shoot-the-puck, but overall the trip was a kooky subplot to the surprisingly amiable end of Ministry.
Ministry's official final release is not last summer's fevered The Last Sucker, but a rascally collection of cover songs attributed to Ministry & Co-Conspirators: Cover Up.
"My whole point with Cover Up was we spent three albums bashing Bush, being very political and very vocal about it," he says. "We got a lot of shit for it: 'Why don't you just shut up? O.K. The guy sucks. Do we need another album?'" He shakes his head. "I didn't set out to do a trilogy of Bush albums. I figured the knucklehead would be voted out after the first one. [But] there he is again! So we did a second album. Hasn't been impeached yet — so we did a third album."
It's in this context Cover Up seems more appropriate, although a cynic might say Jourgensen needed to do something having already released both live and greatest hits albums this decade.