The Black Keys
Brian's Song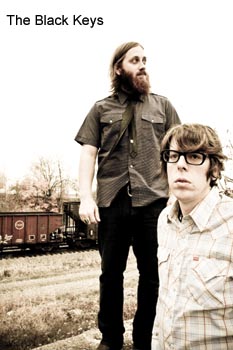 Spikes in Black Keys activity are nearly imperceptible, akin to testing for jumps in a hummingbird's fluttering heart rate. They are there, however.
Appearing: Saturday April 12th at Riviera Theatre in Chicago.
"Make one record a year, kind of stay busy all the time," frontman Dan Auerbach drawls in an ironically passive manner. "We did our record but also recorded and mixed five different albums by different bands, too. Tip of the iceberg, I guess."
Iceberg happens to be an appropriate metaphor applied to The Black Keys' latest album, Attack & Release (Nonesuch). 'Til now the duo, comprising drummer Patrick Carney and guitarist/vocalist Auerbach, defined "what you see is what you get." Unencumbered as bands get, they built their no-longer-modest career on primal blues rock delivered with economic, lethal efficiency. But Attack posts a number of firsts.
Chief among them would seem to be the presence of Danger Mouse (Brian Burton) at the producer's helm. DM shot to prominence for his revolutionary mashup of The Beatles and Jay-Z on 2005's The Grey Album and then joined Cee-Lo Green for the 2006 pop juggernaut Gnarls Barkley. But that's jumping ahead. Attack & Release represents The Black Keys' maiden foray into producers and recording studios. Their first four albums were completed entirely by Auerbach and Carney at home.
"It got to a point where we knew enough about recording where we could go into a studio and talk to an engineer and he would understand us," Auerbach says. They may have exhausted their personal limits, but to a cynic the Danger Mouse arrangement smells like a board meeting with Nonesuch Records higher-ups within Warner Bros.
"It's hard to explain because it happened in such a weird, quick way," he begins. "We'd been working with Brian for two months doing this Ike thing." Not Ike Eisenhower, but a cross-country collaboration that was to result in the next Ike Turner album, shelved prematurely by the rock pioneer's death in December. "We realized we needed to do our own record. It was time. So we just sorta told 'em we were going to take a break from the Ike thing because we knew it was gonna take a while. It was kind of a tedious process — writing, recording, having those songs sent to Brian in California to work with Ike on them. It was taking a while. And then right when we told him we needed to make our own record, he said 'If you ever ask me to work on it, I just want you to know I'd say yes.' At that point we took him up on his offer. We hadn't actually thought about having an outside producer. It just kind of fell in our laps, I guess you'd say."
The result is no difference and all the difference. The studio trio haven't jettisoned any of Auerbach's open-rooted licks or Carney's fevered pummeling. Danger Mouse hasn't mashed them with the Jackson 5 or dressed them in matching tennis outfits. His contribution he pulled from within The Black Keys.
"He didn't want to fuck with our sound," Auerbach bluntly explains. "Brian's thing is just the song. It's not sounds, you know? He doesn't mess around with the recording; he's got engineers to do that kind of stuff. He's truly there for the actual song. So that was cool. We're always really obsessed about sounds. He just let us do that, make whatever decision we wanted to. He concentrated on the stuff he really knows, and that's song structure."
— Steve Forstneger
To find out more of what Danger Mouse taught The Black Keys, grab the April issue of Illinois Entertainer, available free throughout Chicagoland.