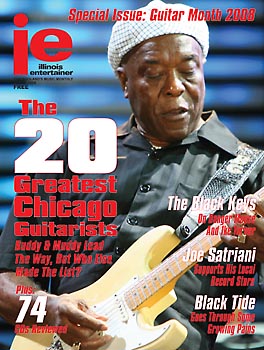 Perpetually under siege by synthesizers, jealous bandmates, "Guitar Hero," and its own practitioners, it's almost as if the guitar can't exist without more tension than what's going on between the neck and the bridge. So at IE we figured why not spray some gasoline on the fire and, for our annual Guitar Month, debate who Chicago's greats have been. "You mean like Terry Kath and Peter Cetera?" Kath = yes. Cetera's just the man who'll fight for our honor.
Anyway.
You, our critic, are bound to pin us to the wall by the ass-end of your Flying V and demand "What does greatest mean?" (At least, that's what our writers did when we posed the idea.) We didn't weigh much other than gut reaction, though in truth there was some element of popularity involved. My neighbor blasted such a sick power chord the other day it blistered paint in my kitchen; suffice it to say, Tony still isn't on this list.
But here, in its imminently denounced glory, is Illinois Entertainer's list of The 20 All-Time Greatest Chicago Guitarists.