Black Tide
Age Old Question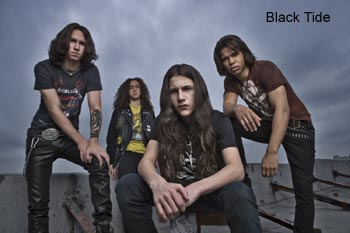 Alex Nunez definitely remembers his first impression of Zakk Sandler. "He was a dick to everybody," Nunez recalls.
Appearing: Sunday August 10th at First Midwest Bank Amphitheatre in Tinley Park.
Today Sandler and Nunez are bandmates in Black Tide, but when they first crossed paths as Miami middle-school students they were guitarists in rival bands. Nunez was in a group with Black Tide frontman/guitarist Gabriel Garcia and Garcia's older brother and drummer, Raul, though he admits their "band" was really just three kids sitting in Raul's bedroom playing the same song all night. Sandler's group, however, was the real deal — at least in terms of middle-school rock bands. "They were doing shows, like local shows, house parties, and they were doing System Of A Down covers; they were pretty good," Nunez reluctantly admits. "They had good equipment and everybody knew about them."
But it wasn't until Nunez and the Garcias started playing some of the same shows as Sandler's group that the then-14-year-old guitarist officially made up his mind about his then-15-year-old counterpart.
"Right off the bat we hated him, or at least I hated him," he clarifies with a chuckle. "He thought, 'Oh man, me and my band, we're so cool.' So we didn't get along at all at first."
As it turned out, though, Sandler, brash attitude and all, was the saving grace of sorts for Nunez and 11-year-old Gabriel. With their first gig at a real venue looming, the band (then called Radio) needed a bassist; Sandler volunteered; they practiced together once; the show "went cool"; and four years later Sandler is still in the group.
"Now me and Zakk are best friends. But that's how it all started: Everyone hated him, then he ends up being in the band, and he's still . . . in the band," Nunez says before jokingly adding, "technically he's still filling in, though. Technically."
Within a few years of Sandler's arrival, Steven Spence relieved Raul, the band signed with Interscope Records (after a failed demo deal with Atlantic), played the main stage at Ozzfest, and released the full-length Light From Above (recorded with Johnny K. at Groovemaster in Chicago). All of this and nobody in the group can legally (Spence and Sandler are 19; Nunez 18; and Garcia 15) buy a six-pack of High Life. Shit, Garcia can't even drive a car without adult supervision.
"We've been extremely lucky, or someone must like us or something," Nunez says, seemingly as amazed with his band's good fortune as anyone else.
Someone must, but plenty won't. It won't necessarily be for the music, though. After all, if you're a heavy metal fan there's a lot to like about grab-ya-by-the-nosehair anthems like "Fate Of The World" and "Warriors Of Time" or the old-school thrash of "Shockwave," and little to dislike about dual-guitar shred fests like "Black Abyss" and the incredibly faithful cover of Metallica's "Hit The Lights." Not everything is as strong, though. Interscope strategically serviced media only a sampler advance with the full-length's five best, by far, tracks, hiding the flabby radio rock of "Give Me A Chance" and the third-tier party metal of "Live Fast Die Young" until Light From Above was released last month.
Still, the music on Light From Above won't be the problem some people will have with Black Tide. They'll resent Black Tide because their album too often depends on outside songwriters (producer Jason Suecof, who worked with the band during their brief Atlantic tenure, is credited on nearly every track and wrote all the music to "Let Me"). Mostly they'll resent Light From Above because it was recorded by kids, kids awarded a major-label contract without having ever recorded (except the Atlantic demo) and handed a main-stage Ozzfest slot without having ever toured. "Paying your dues" is a highly regarded concept in this genre, and other bands can be quite unpleasant, as Nunez and Black Tide learned at Ozzfest, if they think you haven't put in your time.
"I heard there was a couple times where things were said or uh, I heard the drummer [Matt Byrne] from Hatebreed said some stuff about us," Nunez says. "Supposedly there was stuff being said about us behind our back but we didn't really know who was saying it, you know? So we didn't know exactly who to trust."
Luckily, there were also a handful of trustworthy souls — those who reserved judgment until after meeting Black Tide. "We made friends with a lot of bands. At first I was worried, like 'These guys are going to hate us,' but we met a couple of bands on the second stage, like Ankla and In This Moment that we did off-shows with. On off days we did shows with Static-X, so it was us, Static-X, Ankla, and In This Moment. We didn't really hang out with Static-X, but we made friends with Ankla and In This Moment."
Ironically, it was one of the tour's biggest names who turned out to be Black Tide's biggest allies.
"The guys from Lamb Of God are really cool," Nunez gushes. "They were like the first guys to show us where to hang out. 'Cause the first few shows, we were expecting there to be parties and all this awesome stuff, and it was like 'Man, there's not really anything to do.' Then one day we ran into [LOG drummer] Chris Adler, and we're like 'Where's everybody go; where's the party?' And he's like 'Oh man, the second stage. That's where all the buses and vans are so everyone just hangs out there.'
— Trevor Fisher
For more on Black Tide's battle of the ages, grab the April issue of Illinois Entertainer, available free throughout Chicagoland.