Digidesign
Mbox 2 Micro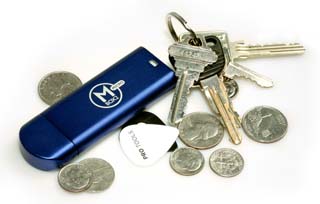 In their aim to imbed a ProTools software chip in the back of every musician's neck, Digidesign's USB flash drive-sized Mbox 2 Micro shows they're serious about making music tools in increasingly smaller recording packages until they're the size of dust mites. This ultra-small ProTools unit enables users to edit, sequence, and mix ProTools HD, LE (included with purchase), and M-Powered sessions on the go as well as compose and record music with on-board virtual instruments and loops. The Mbox 2 Micro offers 24-bit/48 kHz sound, a 1/8-inch stereo output for headphone or speaker monitoring (sorry, analog audio inputs only), and a convenient volume wheel, providing you with true editing, sequencing, and mixing mobility. Mbox 2 also includes a bevy of Bomb Factory and DigiRack effects and utilities plug-ins (more than 45 in all), offering a wide variety of professional real-time and file-based effects and studio utilities ideal for both home-studio demos and live recordings. System requirements to run the Micro are a Digidesign-qualified Windows XP- or Mac OS X 10.4-based computer with at least 768MB of RAM and a minimum 1024 x 768 screen resolution. List price is a reasonable $279. Learn more at www.digidesign.com.
Belkin
Tunestudio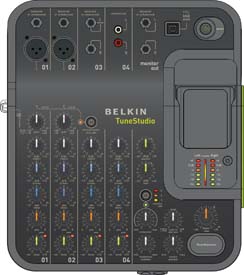 Great for getting song sketches together or putting together a rockin' Podcast, Belkin's Tunestudio lets the musically inclined create MP3-friendly digital recordings directly onto your iPod. This virtual mixer allows the input of up to four different instruments or audio sources (each channel is equipped with three-band EQ, pan, and level controls), and records in 16-bit/44 kHz onto your iPod for instant playback, making it ideal for bands to easily attach instruments and microphones and record jam sessions. Podcasters can also use this device to record their shows either in a studio or on location. Tunestudio lists for $399.99 and is compatible with the 80 and 160GB iPod classic; 4 and 8GB Nano third generation; 30, 60, and 80GB iPod fifth generation (video); and 2, 4, and 8GB Nano second generation. Got all that? Though Tunestudio is a bit pricey compared with the aforementioned Mbox 2 Micro, Tunestudio doesn't require a laptop to record, and Belkin has a solid track record making well thought-out iPod accessories. Get all the details at www.belkin.com.
M-Audio
BX5a Studiophile Monitors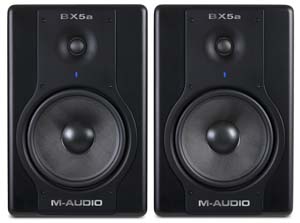 Besides borrowing their name from IE's world-famous column, M-Audio's Studiophile BX5a Deluxe monitors update the original design with an improved 5-inch Kevlar low-frequency driver cone and a 1-inch waveguide-loaded, high-frequency driver. Powered by 70 watts of bi-amped power and newly refined crossovers, M-Audio are aiming to make their monitors perfect for home and project studios. Retail is $399.95 per pair. Updated BX8a models (8-inch cone; 130 watts) are also available. Check out www.m-audio.com for full details.
– David Gedge