Backyard finished their second CD, American Dream, which was recorded at WULI RECORDS in Chicago. The band shoot a video for the song "Mercy" December 15th at Little Big Horn in Mundelein.
Bible Of The Devil entered SEMAPHORE RECORDING STUDIO in Chicago and began recording the follow-up to 2006's The Diabolic Procession with producer Sanford Parker (Minsk, Pelican, Yakuza). The band also recently cut tracks for forthcoming split releases with both Winterhawk and Valkyrie.
At ENERGY COMMAND STUDIOS in Arlington Heights, owner David Banks, with the help of staff engineers Amo Schmyz, Art Garceau, and Don Carlsson as well as intern Jon Owens, completed a major control-room rehaul. Banks and co. replaced their analog board with a new Tascam DM-4800 64-channel automated console with total recall. The swap enabled them to expanded tracking capabilities to 48 simultaneous channels that can be mixed through the console in real time. "The new board lets us do a great rough mix on-the-fly as a band is tracking – and sometimes bands really like the general sound they hear that day – so we'll come back to that mix and finish entirely through the DM-4800 console," Banks says. They also added another (third overall) ProTools rig, providing numerous options for bands with different budgets.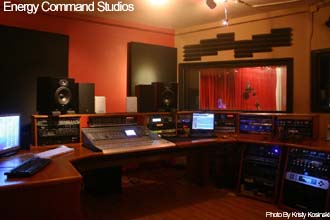 At M-STUDIOS in Galena, Hay Moon Productions out of Evanston worked with the studio on their full-length feature film, Witches Night. Engineer Andy Steil is doing the 5.1 surround mix . . . Justin Morrissey worked on his second CD . . . The studio continues to host Sunday Sessions, an open-house event that features live audio and video recording, the first Sunday of every month from 12 to 5 p.m.
At SHIRK MUSIC + SOUND in Chicago, Ferraby Lionheart (Nettwerk) from Los Angeles, Ha Ha Tonka (Bloodshot) from Springfield, Missouri, the Gore Gore Girls (Bloodshot) from Detroit, as well as Dusty Rhodes And The River Band (Side One Dummy) from Los Angeles all recorded Hearya.com live sessions . . . Production continued on Crystal Ponzio, Cries Tiger, and Awesome Gary's EPs . . . The studio recently refurbished a MCI JH16 (16-track, 2-inch tape machine) and rehabbed and installed a Neotek console.
At SOUNDSCAPE STUDIOS in Chicago, MC Mr. Ed finished his debut album with Michael Kolar in the Red Room. The record features tracks from Dawreck (Triple Darkness) and guest appearances from Psychodrama . . . Construction began on Soundscape's new main studio. The live room will be in a large vault that was reputedly used by Al Capone to stash guns and money, while the control room was where he allegedly stockpiled booze. The entire complex will be underground and sound proofed with walls made from 100-pound, hand-carved stones.
Chicago quartet Sybris started recording their second full-length at PACHYDERM STUDIOS in Cannon Falls, Minnesota with John Congleton (Explosions In The Sky, Polyphonic Spree). Pachyderm, located in 50 acres of private forest, has been used by acts such as Nirvana, PJ Harvey, and Son Volt.
At UP ON THE ROOF RECORDING in Lombard, owner/engineer Mark Blas completed projects for Cesar Corral and Jake To The Bone . . . High Ball mastered new material . . . Blas also multi-tracked live for Mitch And The Polecats at Wise Fools Pub.
E-mail ed@illinoisentertainer.com to get your studio or band listed in "Studiophile."
Category: Columns, Monthly, Studiophile