ilentertainer | Oct 31, 2007 | Comments 0
Les Savy Fav
Let's Stay Friends
(Frenchkiss)

For their first album in six years, New York's Les Savy Fav embrace the disco punk/Gang Of Four revival (they helped touch off) without showing a bit of rust.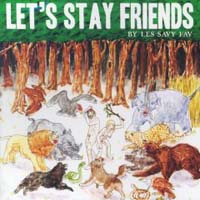 Strangely, Let's Stay Friends bears more structural resemblance to 2004's singles collection than their last official studio album, 2001's Go Forth. Decidedly less frantic than the older stuff — six years is six years — the band can still pull off a bound from stoned psychedelia ("Brace Yourself") to rabid rock ("Raging In The Plague Age") with veteran savvy and confidence. Age hasn't tempered their anger (Dave Grohl probably wishes he could have a crack at belting the chorus to "Kiss, Kiss Is Getting Old"), though it's easy to be distracted by the Matt Pond-ish opening of "Pots & Pans" and the plain flatlining of "Comes & Goes," whose Fiery Furnaces cameo never pans out. That they can bounce back both times with powerhouses "Equestrian" and "Scotchguard The Credit Card" shows why they feel comfy hedging their bets — and will hopefully keep doing so in the foreseeable future.
6
— Steve Forstneger
Click here to download "What Would Wolves Do?"
About the Author:
Comments (0)