Flosstradamus
Have Scene, Will Travel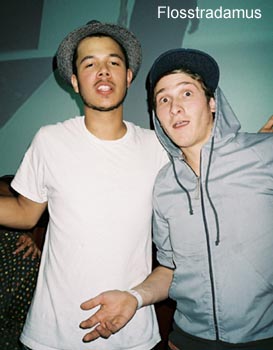 Flosstradamus are breaking a lot of rules. Not necessarily in the genre-crossing, style-mashing, critically lauded kind of way — though they're certainly breaking those. Nor are they breaking them in the scene-restrictions-be-damned kind of way. At least not in this instance, though it's apparent the boys scoff at such petty limitations.
Appearing: October 7th at the Museum Of Contemporary Art.
Rather, Flosstradamus are breaking a number of nightlife clichés and avoiding a multitude of entertainer stereotypes. They avoid drugs, monitor their drinking, and are even conscientious of their eating habits on the road, so as not to get worn out. It's the sort of behavior you'd expect from a straightedge folk group, not the hottest DJ duo out of the Midwest since, well, anyone can remember.
Welcome to Flosstradamus, who consist of DJs J2K and Autobut (Josh Young and Curt Cameruci to their grandmothers). Anyone who has gone out even semi-regularly over the last few years in Chicago has probably come across the two. When they're DJing, it's hard not to notice them. Usually clad in ironic caps, stylish hoodies, and extravagant party garb, the two have firmly established themselves as Chicago phenomenoms (thanks in no small part to the duo's now-infamous residencies and parties throughout town). But the Flossy D boys are garnering a following even beyond the Windy City, something Young attributes, at least partially, to the pair's Internet presence.
"Yeah, it's amazing. I mean that's the thing: Another reason why we came up is Myspace, the Internet in general. It's so huge for us," he sparks. "All the mix tapes that we distribute are 100-percent digital, except for the first hundred copies that we burn in our rooms and give out to people at our shows, y'know? Everything we do is free like that. We just like like have it up on our Myspace pages for download, and both of our mixtapes have moved like 30,000 copies each. And anyone who goes to our page can get it whether it be a kid in Portland — we just played in Portland, Oregon last night to like 500 kids, and it was crazy, it's amazing. We'd never been there before, had no clue what to expect, and it was us and Chromeo and it was packed. People were sticking around for both of us, and it was definitely amazing. So I think that the digital era that we're in it definitely helps."
Of course, Flosstradamus weren't always filling rooms in Portland. Their story began when Young and Cameruci met in 2005 through a mutual friend who felt the two would work well together. Young was looking for a DJ partner at the time, and soon enough, the pair were practicing together, thus birthing Flosstradamus. Practice led to the inevitable matter of playing out together live.
"Curt's girlfriend at the time worked at Town Hall Pub, which was the place we had our first residency," Young recalls. "So, she gave us a Wednesday night there, she's like, 'If you guys wanna come play, like, for no one, like, come do it', and so we did. We brought our turntables and everything, and then we set up, and played for like 15 of our friends and then next time 30 kids came out, next time 60 kids came out, and then it just kept going, y'know?"
Word got out and, as time went on, their presence grew and so did the scene around them. Young views it as not only an extension of Flosstradamus, but something that contributes to the duo's popularity and continued success.
"We've talked about this with a lot of people, and with each other a lot," he explains, "and the one thing that we always say is everything that's happened for us has been very, very organic, very much like fate — kind of being in the right place at the right time. I definitely think that Curt and I have a certain appeal, coming from Chicago, coming from the Midwest, having a true following of people behind us. I can rattle off 10 other acts who are friends with us from Chicago who are kind of on the same level. All these kids, like even my sister [Chicago MC Kid Sister], Cool Kids, Hollywood Holt, Vyle, Mic Terror, all these people, all the other DJs, like Matt Roan, Major Taylor, all these kids we kind of came up with, we have a scene — we have a whole city behind us. There's a lot of DJ groups that kind of just pop up out of nowhere and a lot of just electronic and DJ-related producers, musicians that kind of pop up out of nowhere. But, they don't have an actual scene, they don't have an actual following and the fact of the matter is, in Chicago, we were the first people to do what we did, and we definitely have a very, very strong base of individuals who are down with us and we're down with them. There's definitely strength in numbers."
Whether due to the scene support or the growing crowds at every show, Young and Cameruci soon found themselves working their way up from bigger shows in Chicago to bigger shows nationwide, even opening Coachella earlier this year. Yet for a DJ outfit infamous for their parties, Young views the road — and all its vices and temptations — in a different light.
"You see people living a certain way, and how their careers are affected as a result of it," he says. "And you either try and mimic that if it's a good thing, or you try and do the opposite if it's a bad thing. Curt and I, we're pretty open about the fact that we're not into drugs or any of that kind of stuff and I think that that's definitely going to be a huge help as far as having longevity in this industry — which, this industry happens to be kind of riddled with all that kind of stuff, y'know? All the temptations of being on the road and being in night clubs and hanging out with people at 4 in the morning. But, we maintain, and, as a result, it's going to help us out in the end."
It's a philosophy that flies in the face of what one associates with a professional, traveling DJ lifestyle. Yet it's perhaps a necessary one, as Flosstradamus have larger plans than just touring and local gigs. These days the group have their sights set on releasing a proper studio album, with plans to feature a number of collaborations with the hometown scene that has seemingly sprung up around them.
One track that probably won't make the final product, however, is the duo's stellar mash-up of Sigur Rós' "Starálfur" and the Kanye West/Twista collaboration "Overnight Celebrity," retitled "Overnight Star." The remix actually made its way to the Sigur Rós crew and the response was less than exuberant.
"A friend of ours booked them and played the song for them, and, they didn't say they didn't like it, but they said they thought it was really, really weird. So, I was like, 'All right, that's good enough for me,'" Young recalls. "Yeah, it's funny actually. Kanye's heard it, Twista's heard it, and Sigur Rós have all heard it. So it's funny that that's kind of come full circle for us."
Which makes a certain type of sense. Local boys get brought together by friends, or fate (depending on how you look at it), make good, end up blowing up, and get their mashes played for the likes of Sigur Rós and Kanye West. For any other act, it'd result in a massive ego boost and almost certainly serve as an excuse for hard and abusive partying. For Flosstradamus, it's just another day in the weird world of the traveling DJ, and that much more of a reminder to keep their heads on straight.
Party like a rock star, indeed.
— Jaime de'Medici