Common
Forever And Ever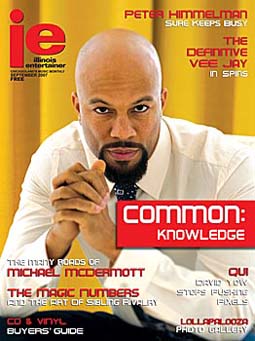 It's hard not to treat an interview/lunch with South Side-born rapper Common like a solemn occasion. He prays before he eats (mahi mahi with a side of fries). He's impeccably dressed — pink dress shirt, grey vest, striped tie, self-promoted Sofi newsboy cap — and his speaking voice is considerably lower than it is on record. It's not Barry White or Isaac Hayes low, but his tone is measured and lends him a grave truthfulness. When you both sit at a table in the posh W Hotel on Michigan Avenue near a gaggle of chatty women, you weigh asking him to speak up for your recorder.
Appearing: September 20th at Charter One Pavilion in Chicago.
Luckily Common has been speaking up on his own lately. After spending the first decade of his career in the commercial purgatory known as "socially conscious rap," he has found his Willie Mitchell in rapper/producer/superstar Kanye West. Common, born Lonnie Rashid Lynn, Jr., has always traveled in elevated circles (both the Native Tongues Posse and The Soulquarians), but the relationship with West catapulted 2005's Be (Geffen) to gold status and stands a chance of doing the same with this summer's Finding Forever.
"While we're making my album, [West] is making his," he says. "That's why when you hear my album and you hear his it becomes part of a movement. And it is a movement. I do feel like it's a vibration. And we do want to get out there. I'm glad it's a movement. For things to become more balanced, you need a Kanye and a Common album to be out there. And also you have a Lil Wayne album and a 50 Cent album and all that. Keep hip-hop balanced."
That balance might soon also overwhelm your viewing intake. Following a co-starring stint as Jeremy Piven's bodyguard in Smokin' Aces, Common will also pop up alongside Denzel Washington and Russell Crowe in American Gangster on November 2nd, Morgan Freeman and Angelina Jolie in next year's Wanted, and has begun filming The Night Watchman with Keanu Reeves and Forest Whitaker.
His eyes light up when he talks about it. "You're definitely staring at them like, 'Damn, that's Morgan Freeman. Damn, that's Denzel. Damn, that's Angelina Jolie.' It's like meeting a musical hero. But it's a lot of work, I'm learning a lot. It's so new, so I love it."
Steadily his stern demeanor – abetted by an immaculately shaved head and practically painted-on goatee – disappears and he glows. "You want to stay innocent. You don't want to over-think too much."
Staying innocent probably isn't as easy as he makes it sound. In 2003, Common was coming off his first gold album (Like Water For Chocolate) and a Grammy win ("Love Of My Life" from the Brown Sugar soundtrack) with the release of Electric Circus (technically released in December 2002), a sprawling, psychedelic R&B juggernaut. Though a similarly ambitious Outkast double album would follow months later, mainstream critics refused to wrap their heads around it, radio and video channels wouldn't go near it, and, as a result, neither did fans.
"Sometimes it takes an album to not be successful to open people up," he says. "I gotta say I think Andre 3000's work on [Outkast's Speakerboxxx/The Love Below] was very good and his songs were incredible songs. I think Electric Circus, for me . . . I'm an artist. I'm gonna express what I feel at that moment. I can't help it. I do it through the music. After Electric Circus I feel like I had something to prove in a way. It was a tough time for me because I'd been in love and broke up and along with that I got ridiculed and criticized a lot for Electric Circus. It made me hungry, though."
— Steve Forstneger
Catch a preview, then read the full text in the September issue of Illinois Entertainer, available free throughout Chicagoland.