Colette
When Push Came To Shove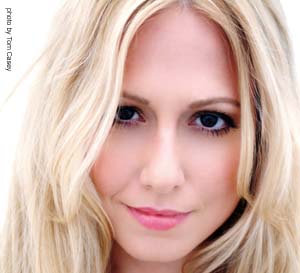 As a DJ, Colette performs more than a hundred shows a year from the diverse worlds of Coachella, The Grammys, and an ongoing residency at Chicago's very own Smart Bar, while simultaneously setting trends for females behind the turntables. As a recording artist, the switch hitter from Chi-town (who currently resides in California) is the leading lady on dance label OM Records, scored a number one Billboard Dance Club Play single with "What Will She Do For Love," and landed her last disc's title track, "Hypnotized," on The Devil Wears Prada's soundtrack.
Appearing: September 8th at Smart Bar in Chicago.
The two years between Hypnotized and the brand new Push were a whirlwind, including cross-continental touring (sometimes crossing time zones multiple times a day), and marrying her longtime sweetheart (amid a flurry of recording activity).
"On this record, there was definitely a shorter deadline, which I think was a good thing, but it was crazy," Colette says, phoning from home. "After traveling for so long, it came to the point where we were writing all the time as the deadline got closer and then I wound up getting married the month of! I got back from my honeymoon and realized the disc was due sooner than I originally thought, so it was kinda good because I work better under pressure, but I don't enjoy it. Luckily my husband is super cool and my whole family was really supportive and understanding of the crazy schedule."
Given that realization, Colette also didn't get to enjoy time as a newlywed, literally leaving her freshly settled home life within days to hunker down in New York for the 11th hour sessions. In keeping with the mounting trend during the Push project, the tension escalated even more when she discovered at 2 a.m. on the eve of turning in the album that the vocals on the funky club thumper "Call It Out" weren't up to snuff.
"I was really loving all the songs, but as the last week settled in, I was not 100-percent happy with that one in particular," she says. "The challenge with that one was the record was due four hours later, which meant pulling an all-nighter to get it right. I guess that's another reason why Push is such a fitting title."
— Andy Argyrakis
Catch a preview, then read the full text in the September issue of Illinois Entertainer, available free throughout Chicagoland.