ZibraZibra
The Note, Chicago
Saturday, July 28, 2007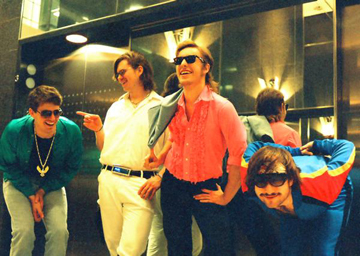 What do a band mentored by pudgy, white, R&B crooner Har Mar Superstar sound like? Apparently ZibraZibra.
Of course, who knows how seriously we're suppose to take that whole mentoring thing, which may just be mentioned in the band's bio because they hail from the same hometown — Minneapolis — as Superstar and allegedly graduated — last year! — from the same high school. After all, Glen Danzig is thanked in the liner notes of their most recent release, 777 (Royalty, Etc.), and it's doubtful he had much influence on the band's spastic mixture of synth pop, hip-hop, and hard rock. Sexual intercourse, progressive tax brackets, mother nature, George Lucas, and the letter "J" are all also thanked, whatever that tells you. It probably tells you ZibraZibra might be a smidge satirical with their sense of humor. "Engineered to rock your body and blow your frickin' mind," Kid Z, Vanilla, The Atomic Wolf, and Technosaurus Flex love cheesy synthesizers and overly processed beats ("Cat And Mouse") but they also have a thing for wanky heavy metal guitar solos ("I Am Your Machine") throwback hip-hop ("Kiss Kids" is undoubtedly the result of an infatuation with DJ Jazzy Jeff And The Fresh Prince), video games ("Arcade Catastrophe" geeky science fiction, "Cyberland," and the Finnish language, "Cruisin'). (Finland earns an "additional thanks" in the liner notes).
Pretty absurd stuff. Maybe it's the work of Har Mar Superstar after all.
ZibraZibra open for Bryan Scary And The Shedding Tears.
— Trevor Fisher
Click here for streaming samples of ZibraZibra.
Category: Stage Buzz, Weekly