The Subdudes
Beverly Arts Center, Chicago
Saturday, July 28, 2007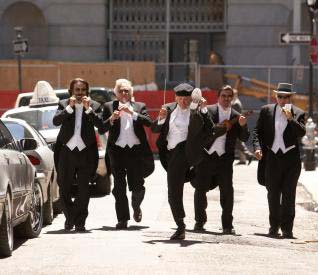 New Orleans, for the most part, has not recovered from Katrina yet. The Subdudes are more than back on their feet, however, and show the kind of fundamental strength a building or levee could never match.
Street Symphony (Back Porch, August 28th), could be bitter about the wobbly state of NOLA as she enters another hurricane season, but, like a lot of the city's music since then, has a spirit that is nearly supernatural. The Subdudes are practically ebullient on the dozen tracks, tellingly kicking things off with "Fountain Of Youth." You could slip "Poor Man's Paradise" into a Steve Miller Band or Doobie Brothers set without making anyone the wiser, and "I'm Your Town" makes no specific allusions. In fact, The Subdudes seem so unfazed by the destruction you start trying to draw all sorts of bogus metaphorical connections to "Fair Weather Friend," just to feel good about the purchase.
Before long, however, reality sinks in via the downtrodden blues of "Brother Man" and the down-and-out "Work Clothes." The Subdudes are smart enough, however, not to overdo them or pay any less attention to sensual odes like "Absolutely." It's not like once the city's back on her feet she'll be one large hurricane museum, eh? She's gonna wanna rock some.
The Subdudes also perform July 29th at Lincoln Park Fest.
— Steve Forstneger
Click here to download an entire Subdudes concert recorded in Virginia earlier this year.
Category: Stage Buzz, Weekly