Billy Bob Thornton
Beautiful Door
(New Door)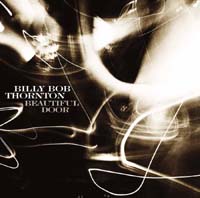 The actor's fourth album in six years is yet another country-roots affair, the sound of a beat-up LTD cruising an empty highway.
Billy Bob Thornton can't be attacked as one of those actors trying to be a hack musician, because rockin' is what he was doing before he got big in Hollywood. He just now has the friends (Marty Stuart, Graham Nash) to distinguish him.
But as Beautiful Door attests, Thornton isn't nearly as interesting a musician as the characters he portrays on screen. While he once toiled in a ZZ Top cover band, his subject matter is dour at best (dead soldiers in "Hope For Glory," dead innocents in the title track) to an insufferable bummer at worst (losing a child for "Boy Is Gone," a suicide's aftermath in "It's Just Me"). Even looking for tush has been replaced with a ponderence on his own physical problems ("Always Countin'"). The studio band, while professional and flawless, brings little life to the arrangements and lulls the album to sleep during some protracted trudge sequences. The one endearing tic is a harmonic sense Thornton shares with the Meat Puppets. The vocals on the title track and "Boy" have a psychedelic Arizona in mind, a chewy treat to wile away this dusty hour.
5
— Steve Forstneger