The Comfies
The Abbey, Chicago
Wednesday, January 17, 2006
The Comfies want to link their sound and collegiate lounge wear to match their moniker, as if to say "Our songs will fit just right, like that worn sweatshirt you can't bear to throw away." Pictures of the boys clad in matching blue pajamas complete with white piping and flanked by giant stuffed teddy bears even appear on their MySpace page.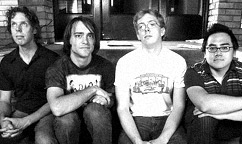 But this does the Nashville quintet a disservice, because really, who dances around in their pajamas?
Sure, Cyndi Lauper's "Girls Just Want To Have Fun" probably still inspires a number of 14-year-olds to shimmy the night away at slumber parties, but the seven tracks on The Comfies' debut EP, Close To Me, are meant for the confines of a club where people can bounce around and get sweaty.
Power pop is alive and well in the hands of frontman and primary songwriter Benjamin Adam Harper. Tinkling harmonies and rhythms poised for hand-clapping audience participation propel the recording, which earned the 88th spot on CMJ's music chart in its second week of release.
"That's What She Gets" is reminiscent of The Hollies' "Bus Stop" with its jangly guitar, and "In My Room" bops along like any New Pornographers ditty, but Harper's female foil, guest vocalist Andrea Barrett, is no Neko Case. The EP closes with an acoustic number, "Dear Miss Anderson," which ridiculously clocks in at a minute and a half before one can even absorb its loveliness.
A note to Harper and his bandmates — guitarist Rafael Cevallos, bassist Nathan Hansen and drummer Sam Smith — leave the bedroom slippers at home.
The Comfies appear with Melismatics and Gidget's Ga Ga.
— Janine Schaults
Category: Stage Buzz, Weekly