Buckcherry, The Exies
Austin's Saloon, Libertyville
Tuesday, January 23, 2007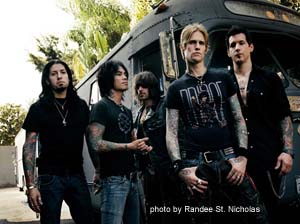 You could almost see the members of Buckcherry holding their breath when they released their third LP, 15, a year ago. It was clearly a labor of love — after much soul-searching they decided not to make their breakup permanent, but instead try a little something new in their approach to songwriting and production. The result was a success: 15 is their most powerful record yet, and Atlantic Records picking them and it up midstream was testament. The viral video-driven hit "Crazy Bitch" is nominated for a Grammy this year for Best Hard Rock Performance.
So now, one year after the launch tour for 15, it appears they've let out that breath. Back then, at Metro, what felt like trepidation came across onstage, resulting in a show that was a bit short on passion. But on this night, playing at a new club in the suburbs that holds about a quarter of the crowd they're used to, selling it out in the couple of weeks since the stop was added to their current tour, Buckcherry showed lucky Libertyville why they're Grammy worthy.
First, openers The Exies deserve note here, as an L.A. band with a similar precarious history as their tourmates — a few LP releases that sold well and garnered them a nice fanbase. Theirs is more a grunge-era hard rock, parts Nirvana, STP, and Our Lady Peace, this night played at unnecessarily eardrum-splitting volume. They do an interesting interpretation of The Talking Heads' "Once In A Lifetime," which should be on the awaited A Modern Way Of Living With The Truth.
Buckcherry seemed tentative a year ago in bringing out the songs from 15 that reflect their new, more melodic and ballady sides, given the very hard edge that was their calling card. But seeing the sentimental side of card-carrying bad boys is, frankly, sexy . . . as in the heart-tugging "Sorry," the irresistible, upbeat love song "Carousel," and "Everything," the latter undoubtedly their next hit.
Buckcherry's show has always been R-rated, and being a red-blooded American woman, watching half-naked, sinewy, tattooed men writhing and grinding onstage is a lot more fun than watching some chubby-cheeked, fully clothed, overly self-conscious post-pubescents with their shoes nailed down. The mantra is " sex, drugs, and rock 'n' roll," is it not? Frontman Josh Todd is engaging his audience more, with humorous and tawdry banter illustrated by suggestive gestures with his hips, hands, and the mic.
The high point of the evening was a super-extended version of their hit, "Crazy Bitch." Guitarist Keith Nelson set the background with a little wah-wah funk riff, and Todd intro-ed the song by extolling the, um, virtues of crazy bitches, stirring the audience up before unloading the song on them. They broke it back down in the middle, back into the funk, into bits of Billy Squier's "The Stroke" and The Ohio Players' "Fire," and back to finish out "Crazy Bitch." They ended the night with the also delightfully deviant "Lit Up" from their first LP, which Todd also eased and teased into with a silly story about the first time he encountered "the cocaine" (the man is straight as a ruler these days).
Hot, sweet, and sticky – that's what a rock show is all about.
— Penelope Biver
Category: Live Reviews, Weekly