Last spring we reported public radio station WBEZ-FM (91.5) and its satellites (Chesterton, Indiana's WBEW-FM (89.5) and Morris' WBEQ-FM (90.7)) would scrap music programming altogether when they switch to all news and talk in January. Now Chicago Public Radio says it plans to retain a smidgen of music on WBEZ.
They'll be keeping #Ken Nordine's "Word Jazz" and a "re-imagined" version of the locally produced world music show, "Passport," as well as the syndicated "Afropop Worldwide."
But mostly, they'll be talking about music on shows such as the rock-oriented "Sound Opinions," New Orleans-based talk show "American Routes," and a new Sunday afternoon jazz show co-hosted by Dick Buckley and Dan Bindert.
Much of the evening hours will be consumed by repeats of daytime shows such as "Eight-Forty Eight," "Worldview," "Fresh Air," and the new "Global Overnight," consisting of live news and cultural programming from sources around the world.
Lost in the shuffle will be overnight jazz programming and shows such as Marian McPartland's "Piano Jazz" and Steve Cushing's "Blues Before Sunrise," which aired for 26 years on WBEZ and will still be heard on more than 70 other stations. To view the new schedule, go to www.chicagopublicradio.org/schedule2007.
The two satellite stations will eventually be skewed toward a younger audience and broadcast listener-supplied content. Dubbed "The Secret Radio Project," there's more info at www.secretradio project.com.
Disgruntled music fans have set up an online petition protesting the changes at www.savethemusiconwbez.org. Folks at www.boycottcpr.com/news.php are also trying to convince WBEZ not to dump music.
SECOND CITY TV: It probably won't lead to a revival of the seminal 1970s sketch comedy show "SCTV," which launched the careers of such comic luminaries as John Candy, Martin Short, Catherine O'Hara, Eugene Levy, Andrea Martin, Harold Ramis, and Rick Moranis plus gave us songs like Bob and Doug McKenzie's version of "The Twelve Days Of Christmas." But the unusual first-look deal Second City signed this fall with NBC Universal TV Studio to create new projects may lead to better comedy and reality TV programming for the network.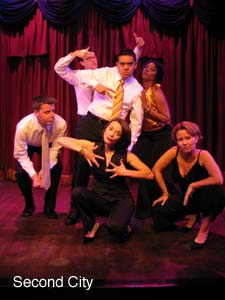 "We're also looking into some hour-long comedies," says Kelly Leonard, Second City vice president and president of Second City Theatricals. "What's obvious is that the business out there is in a weird place. There are way less sitcoms on the air than ever before. People aren't sure if the traditional paths to the stuff make the most sense. We're a fairly inexpensive option for trying something different.
"And since NBC really cut costs big time this year and still needs to develop stuff, that's kind of where we fit in," he continued, referring to the General Electric-owned subsidiary's plans to cut 700 jobs and $750 million in annual operating costs by the end of 2008.
At press time they were in the process of setting up a Los Angeles outlet that will feature a stage where members of Second City's stable of 140 performer/directors could fine-tune ideas before the cameras roll. As Second City CEO Andrew Alexander told Variety magazine, "It's a cost-effective way of doing things – you don't need to spend $2 million on a pilot."
ARRIVALS AND DEPARTURES: Local top-40 radio legends Dick Biondi and John Records Landecker have landed at "True Oldies" WZZN-FM (94.7). Biondi (and the rest of the Magic 104 staff) was all but canned last year when WJMK-FM (104.3) flipped to a Jack-FM format and fired outright last summer; he's on evenings from 9 to midnight. Landecker, who left WJMK in 2003, can be heard afternoons on the ABC-owned station.
Tommy Edwards, who was canned last August by "Real Oldies" WRLL-AM, is now anchoring afternoons on Love-FM (100.3). Former WBBM-FM (96.3) mid-day jock Brian Middleton, who also lost his job at the CBS-owned station during last July's purge, has left radio altogether. He has teamed with former B96 sales and marketing veteran Thad Gentry to form a marketing firm called the Glue Factory.
Still out of work at press time were Mancow Muller, Bobby Skafish, Johnny Mars, Melissa Formand, and Fred Winston – all of whom were fired by different stations last summer.
Joining their ranks in October was WLUP-FM (97.9) weekend jock Cara Carriveau, who was reportedly canned ( Carriveau has since landed a Sunday night and fill-in gig at Bonneville International-owned WTMX-FM 101.9) for a letter she wrote that was printed in Robert Feder's October 4th Sun-Times column – although station bosses told Feder the ouster was a long time coming. What did our namesake say that was so explosive? "It's unbelievable how many Chicago radio icons are not currently on the air in this town. It's amazing that we can no longer flip through the dial and hear Mancow, John Landecker, Fred Winston, Dick Biondi, Bobby Skafish, among many others. My heart goes out to those talented personalities, and I am empathetic to the many disappointed listeners. This situation is sad. Very, very sad."
It's another painful example of "There but for the grace of God go I" syndrome. The phrase is attributed to 16th century English Protestant reformer and martyr John Bradford, who uttered it upon seeing a group of criminals being led to their execution. A few years later he himself was accused of heresy and burned at the stake during the reign of "bloody" Roman Catholic Queen Mary Tudor. And who says times have haven't a-changed?
– Cara Jepsen