Planes Mistaken For Stars
The Note, Chicago
Friday, November 24, 2006
It isn't unusual for Midwestern bands to flee their homestead for a destination they consider more promising. After all, Middle America can seem awful limiting compared to New York City or Los Angeles, two cities contaminated with major labels and major tastemakers. So the fact Planes Mistaken For Stars left Peoria isn't surprising; the fact they left for Denver is.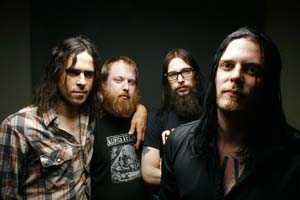 Peoria might not be a breeding ground of musical creativity (though multi-platinum nu metalists Mudvayne are native Peorians), but it is only a three-hour drive from Chicago — close enough to tell the geographically challenged you're a Chicago band. PMFS didn't choose Denver for the hip music scene or to rub shoulders with A&R representatives, though. They picked Denver because as a constantly touring band, Denver would give them the chance to travel to any part of the country in three days or less.
PLMS no longer call Peoria home, but their most recent record, Mercy (Abacus), should allow hometown fans to forgive them for leaving. The emo-ish tendencies (the band made their recorded debut on then label Deep Elm's 1999 compilation The Moment Of Truth: The Emo Diaries, Chapter Three) that characterized their earliest efforts are long gone. Mercy is the full realization of the darker, more primal sound PLMS experimented with on their second full-length, 2004's Up In Them Guts. Mercy toes the line between trudging doom metal and arty experimental rock, one of the reasons PLMS are just as likely to tour with a group like Cursive as they are High On Fire (vocalist/guitarist Gerald O'Donnell's mimics Matt Pike's tortured howl perfectly).
Haymarket Riot, The North Atlantic, and Viva La Fox open.
— Trevor Fisher
Click here to download "Killed By Killers Who Kill Each Other."
Category: Stage Buzz, Weekly