Jeremy Enigk
World's Wait
Sitting at Niagara Falls watching the water cascade and wash away, Jeremy Enigk is staring at the tumult of the last 10 years of his life. Since the first breakup of Sunny Day Real Estate — the band who forged the template for emo in the '90s, for better or worse — Enigk has been practically quartered artistically. Finding God, releasing a solo album, Sunny Day's rebirth, morphing into The Fire Theft . . . things were bound to get lost along the way.
Appearing: December 13th at Double Door in Chicago.
And they did.
In October came World Waits (Lewis Hollow/ Reincarnate), an album every bit as old as new. Planning of the followup to his first solo album, 1996's Return Of The Frog Queen, was interrupted by Sunny Day's reunion and delayed until he had a window to stop being a touring musician.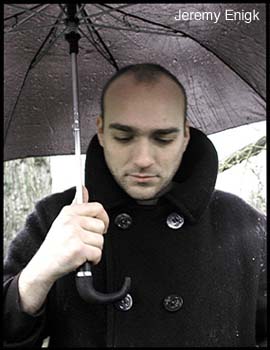 "I had every intention to do it," he says on the phone from upstate New York. "I wasn't quite in the headspace to make a sequel to Return Of The Frog Queen. And Sunny Day got back together and it became about Sunny Day then. I just can't devote, be in two places at once. I needed to give Sunny Day a fair chance at the records to be made. I love How It Feels To Be Something On [SDRE's first album back], so of course I'm going to tour with it; of course I'm going to spend time with my friends."
But spending time with friends turned into an upswing in the band's popularity. People who didn't know them in the early '90s caught on in time for Something On, hailed by some publications as the band's answer to Radiohead's OK Computer. Extensive touring led to another album and more shows. But when they disbanded again in 2002, Enigk's solo career wasn't revisited, it turned into The Fire Theft with three-quarters of Sunny Day.
"When I brought back 'Damien [Dreams]' and 'Burn' I tried to look at them from a completely new perspective. They were not ready back then, otherwise they would have been Sunny Day Real Estate songs or Fire Theft songs, but they just weren't ready. It took until now, at this time in my life, 'til I actually took the time to try to rework them in a format I could relate to now, as opposed to how I related to them 10 years ago."
"Damien Dreams" and "Burn" are the only two songs remaining from the second solo album's nascent form, but given the epic feel of World Waits, it's hard to notice a difference. A distant cousin to Frog Queen's pocket chamber folk, the new album takes the prog leanings of later Sunny Day and Fire Theft and rolls them out with cinematic abandon. Enigk's a self-professed perfectionist in the studio — "I've always been a pain in the ass" — and yielded a collection not unlike Niagara: powerful yet serene, soaring freely while smashing against the rocks. It's ambitious, which explains partly why it took so long to complete.
"I think in a lot of ways," he says about composing such densely constructed songs, "they were all a struggle. But 'World Waits' was one of the first ones finished and I knew that it was finished a month into recording. But some other ones were difficult. What proved the most difficult wasn't the tracking, it was the mixing. There were so many different parts. There were so many different guitars recorded, so many different percussions, and it became more about a process of eliminating parts rather than trying to mix them all into one. It was difficult eliminating things that you're attached to."
You'd be hard pressed to find anything missing. If anything was removed, Enigk buried his footprints. "I think the thing is I'm somewhat of a perfectionist; I want it to be absolutely right. I take my time in the studio to make sure. If I don't feel inspired at all, I won't work that day. It's really waiting for the muse to speak, and sometimes it's just not happening and the best thing you can do for a record, sometimes, is go to the pub and have a Guinness. You know? You can come back after you've had a break. It is difficult for me. I want it to be the best it can be. But if it's not coming out of me, it's not coming out of me."
— Steve Forstneger

For more of the story behind World Waits, grab the December issue of Illinois Entertainer, available throughout Chicagoland.