Forgive us for not fully fleshing out last month's inaugural Metal Issue. While we're mighty proud of it, if we really had it together we would have featured Sanford Parker of Volume Studios in that "Studiophile" instead of this month.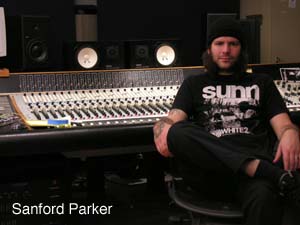 Parker's fingerprints are all over Chicago's heavy music scene. Lair Of The Minotaur, Last Vegas, Pelican, Sweet Cobra, Bible Of The Devil, American Heritage, Yakuza, and Debris Inc. are just a few of the familiar area groups that have recorded with Parker, who along with partners Jason VanHoose and Stan Wood, owns and operates the Wicker Park studio. While it wasn't his intention for Volume to specializing in all things heavy when he opened the studio four years ago, that is what happened.
"Basically our idea was just to create a place where bands with limited budgets could go and produce a good-sounding record," Parker explains. "They wouldn't have to go shell out $600 a day, and on the opposite side they aren't recording in a friend's basement on a four track, you know what I mean? We just wanted to offer bands who have like a $4,000, or even less, budget and just kind of work with what they've got."
So why did Volume become the Chicago studio for punk, metal, and hard rock? "I've always been kinda in that scene," Parker says. "I've always played in heavier bands and stuff, and I think because of that bands like that have seeked me out more than indie rock bands and stuff like that, which makes sense."
But, he admits, it's also a double-edged sword. "In a negative/positive way I've kind of pigeonholed myself into this, like, metal guy, which, it's cool because it's something that people associate you to, but at the same time that's all I ever seem to get. If I talk to other bands they're like 'Oh you do metal right? We're not like that.' On that hand it kind of sucks because I listen to a lot of music, not just metal. [Jason and Stan] kinda lean more toward the indie rock scene so they've kind of brought in that stuff. I guess it's just what we're more individually into as far as the bands we bring in."
Coincidentally, one of the bands Parker brought in ended up doing the same with him. When Peoria-based experimental metalists Minsk were recording Out Of A Center Which Is Neither Dead Nor Alive at Volume in 2005 Parker says the bass player wasn't hacking it. Because he had been good friends with the band for many years he didn't hesitate telling the other members – Tim Mead, Chris Bennet, and Anthony Couri – that if they were unhappy with their bassist, Parker would take over. And just like that he was in Minsk.
"I actually wrote and recorded all my bass parts in one day for the entire album," Parker remembers with a laugh. "That was a major pain in the ass, and I'll never do that again."
Luckily, it wasn't necessary for Minsk's recently completed second album, scheduled for an early '07 release. Thanks to a contract with Relapse (Mastodon, High On Fire) the band had what Parker deems a "decent" size budget to work with and, most importantly, were free of last-minute lineup changes. But that didn't necessarily make things easy on Parker. Remember, besides playing bass in Minsk he is their engineer and their producer. That's a lot of responsibility on a record.
He admits this Minsk record might have been his last time pulling triple duty. Next time, he says, it might be time for an outside engineering or producer, or both.
"I think next time I would like to hire somebody completely outside. Somebody I'm not friends with. Some-body that could come in and I could be like, 'O.K., I'm gonna pay you to do this,' so then there's not any 'Ah, dude I can't make it I got a date tonight' or any of that shit," Parker says. "As a band [Minsk] do need a lot of outside guidance, and when I'm working with bands I always try to . . . the way I see it is if I'm recording an album I'm that band's first reviewer, you know what I mean? So I always try to look at it from that point of view.
"Even if I'm working with a band where I'm not really stepping up as a producer so much. I'm obviously still going to give some sort of input," he continues. "So it would be nice for our next record to kind of have somebody come in and not just help out engineering but maybe give some sort of outside guidance as well."
Assuming Minsk record their next album at Volume, that person would be coming into Parker, VanHoose, and Wood's best set up yet. About three months ago, the trio lost their Wicker Park space when the building was sold. But as luck would have it Eric Block, Jeremy Lemos, and Scott Adamson of Semaphore Recording had found themselves in a similar situation. All three engineers were so busy as touring soundmen, they were having trouble bringing in enough business to warrant keeping Semaphore's doors open. One solution solved both studios' problems.
"Basically what happened was we are working both studios out of the same building, they're still two separate things," Parker explains. "We were able to take what we had and merge it with them and move into their space. We're charging the same rates, nothing has changed as far as that goes. We've also got six dedicated people pushing to get work. It actually worked out really good because if I'm out of town there's five other people who can book the studio.
"We basically combined two studios together and created one really badass studio."
Volume Studios is located in the Ukrainian Village. For more information call (773) 490-2647 or visit www.volumestu dios.com.
At CLEANCUT RECORDING STUDIO in Palatine, Sam K worked on his debut with owner/engineer/producer Tony Doppke . . . Chris Otepka of Troubled Hubble started his solo debut featuring Kenny Aronoff on drums; Jim Godsey (JBG Audio) is engineering . . . Rapper Apollo recorded some new tracks with Doppke for an upcoming release . . . Longtime "Studiophile" readers will recognize CleanCut Studio as the studio now operating in the space formerly known as SOTO SOUND, run by the late Jerry Soto.
Chicago power punk band The Lusties are working with five-time gold, once-platinum engineer/producer Mark Blewett (The Used, Goldfinger, Story Of The Year, Adair) on their first regional demo. A record will follow.
At SOUNDSCAPE STUDIOS in Chicago, owner Michael Kolar finished mixing #Naledge's (Rawkus Records/ Hustle) new single "Go Ill" . . . Also, the new The Kidz In The Hall album, School Was My Hustle, came out October 28th; several songs on the album were recorded and mixed at SoundScape . . . The new Molemen album features five songs mixed and recorded at SoundScape, including, Rhymefest, Brother Ali (Rhymesayers), Saigon (Just Blaze), Mass Hysteria, and Penn & Littles . . . Kolar and Sean Nunan took the entire Room A High Definition ProTools rig to Riot Fest in November and recorded Naked Raygun, The Blue Meanies, The Bowlwevils, and the rest of the bands that played the Congress Theatre festival. The Naked Raygun performance will result in a live DVD/CD package.
At STUDIO VMR in Brookfield, recent projects include Rockin' Billy, Peter Blast, Locke, Pony Boy Curtis, The Gospel Chi-Lites, Eddie C. Campell, Oscar Coleman, and the Mark Z. Band.
Hey Studiophiler: To get your studio or band listed in "Studiophile," just e-mail info on whom you're recording or who's recording you to ieeditors@aol.com, subject Studiophile, or fax (312) 930-9341. We reserve the right to edit or omit submissions for space. Deadline for the January issue is December 10th.
– Trevor Fisher
Category: Monthly, Studiophile