Forward, Russia!
Give Me A Wall
(Dance To The Radio/Mute)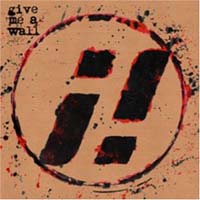 Non-Russo, former numberers of songs come back 'round for Stateside approval.
Appearing: Tuesday, December 5th at Empty Bottle.
Technically speaking, Forward, Russia! should be written with an inverted exclamation point at the beginning like a Spanish sentence. But since I can't figure out how to type that on my computer, I'm leaving it off. It's a shame, really, because like its peers Bloc Party and Franz Ferdinand, this British four-piece is all about exclamation. The difference being Forward, Russia! brews its scattershot rock a bit darker, a little less British, and definitely not as polished. Actually, the majority of these songs invoke the floppy 'fro of Cedric Bixler-Zavala and At The Drive-In rather than some NME buzz band. Although Forward, Russia! is a bit more intense than the current on-slaught of rather derivative art-meets-dance rock, the kids should eat it up just the same.
6
— Joseph Simek