The Damwells
Go Airborne
Ask any number of aspiring/up-and-coming rock songwriters who their influences are, and you're likely to get a response that includes names from the last two decades, or predictable staples like The Beatles, The Rolling Stones, or Bob Dylan. These are respectable idols, but the exponential inbreeding of styles has given us a homogenized medium with very little lasting impact.
Appearing: 10/6 at Double Door (1572 N. Milwaukee) in Chicago.
Damnwells frontman/songwriter Alex Dezen might surely cite the latter three as influences of his own, but his inspiration was spawned from less predictable and more intriguing sources, that of indie band Come, an appreciation for early Wilco, and his erudite interest in the roots of American songwriting.
"[Come] put out this record called Eleven: Eleven that had these great songs on it and had this great interplay between [guitarist] Chris Brokaw and [singer/guitarist] Thalia Zedek that I thought was so interesting and so cool, reminiscent of The Rolling Stones, kind of a modern take on blues. And I thought maybe this was something I could do," Dezen says. Throughout college he tried to write songs that sounded like Come's.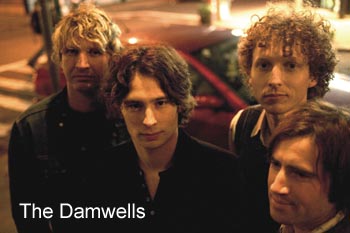 "Then there was the Wilco record, Being There, that had a big effect on me, too, and then Summerteeth. Then I started listening to the Anthology Of American Folk Music, and I was playing in this bar every weekend when I was in college, covering songs from the Anthology. I was listening to two different types of music at the same time, and there was a bridge between them, and I just started writing my own music, feeling like I had a whole perspective on what I wanted to do, or as much of it as I could possibly understand at the time."
While countless rock star wannabes search for band members with "chops" in their local papers, really good bands, like star-crossed lovers, often happen by accident. The quartet of Dezen, bassist Ted Hudson, guitarist Dave Chernis, and drummer Steven Terry became The Damnwells more than six years ago in New York City. Dezen and Hudson had attended college together upstate; random gigging and jamming brought the four together, and it was soon apparent something was gelling, both musically and personally. They began touring early, choosing to spread the good word one show, one fan at a time, rather than putting a handful of songs together and pimping themselves to record labels.
Chemistry, respect, and appreciation garnered over their six-year history has no doubt seen The Damnwells through their career uphill climbs. Their supposed big break — signing to Epic Records — crumbled, like that of so many bands before them. Their 2003 debut, Bastards Of The Beat, was produced mostly by the band and manager Wes Kidd (Chicagoan and former frontman of Triple Fast Action-turned artist manager) in pieces over two years. Despite its production limitations, it's a collection of songs establishing The Damnwells' amped-up Americana sound, with two particular gems that ended up on many critics' top songs lists: "Kiss Catastrophe," a bittersweet, resolute look at (star-crossed?) love, and "Sleepsinging," a vehement personal revelation whose sonic dynamic swells to a raging rock crescendo.
Epic funded the recording of their new LP, Air Stereo, but later released the band from their contract, and luckily the masters to the new record. The band probably realized it was a blessing, however, because they turned around and signed with Zoë Records, whose credible roster includes Grant Lee Phillips, Juliana Hatfield/The Blake Babies, Lisa Loeb, and Tracy Bonham, among others. Dezen, who's never one to mince words, says, "I feel like I never need to be on another label as long as I live!"
The recording of Air Stereo was a labor of love. In the band's electronic press kit, Dezen can be heard venting, "I hate making records!" He explains: "The truth is the process of making records is just tedious, tedious work! You've set these goals yourself, saying, 'I want it to sound this certain way,' so you've really dug yourself your own hole, so you have to get in your hole and just bury yourself! The process of making this particular record was very difficult because we were on Epic, and they were intervening a lot and the situation got very uncomfortable. [They] wanted us to sound like these other bands on Epic, and that was difficult and humiliating, too, to realize you are this thing and these people that you work for think you are someone totally different."
They took their 17 total songs, remixed and remastered a few, switched some out, changed the sequence, then released the 13-song Air Stereo in August. The new record is a natural progression from their debut, showcasing a band who have grown and matured, but remained pertinacious. Being a prolific bunch who frequently demoed new songs has given them the ability to play with recording elements that contribute to the record's mood, uniqueness, and overall integrity.
— Penelope Biver
The Damnwells' journey continues in the October issue of Illinois Entertainer, available throughout Chicagoland.