It's like the other islands, it's easy-going and you don't have stress. The water surrounds it and it's like a small, beautiful jewel," says Sara Tavares from a car on a busy Lisbon street. This fanciful summary could be about Maui or Bermuda, or some other small, tourist-heavy beach paradise. But she's talking about her ancestral home of Cape Verde, 10 tiny islands off the West African coast that inspire the rich cultural mix of her music. "It's a [mestizo] country," she explains. "It's a port so there are many different languages; you hear different sounds and rhythms. Cape Verde is very melodic."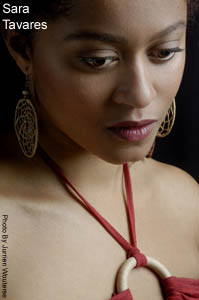 Melodic also describes Tavares' newest album, Balance (Time Square). Full of lilting arrangements accented by Tavares' sweet, multilingual vocals, the CD serves as an aural postcard for Cape Verde's transplanted community. Because the country rarely has rain, a majority of the population is forced to emigrate to find sustenance and a better standard of living. Indeed, although they're not related to Sara, the popular '70s soul group Tavares claim Cape Verdean ancestry. Many Cape Verdeans flock to Lisbon because the island nation was once a Portuguese colony. Tavares has lived in Lisbon all of her 27 years but has only recently started composing music that reflects the various layers of her Cape Verdean heritage.
"I was expressing myself through another language before," she says. "I've matured in terms of consciousness and being comfortable with who I am."
Identity plays a major role with Cape Verde immigrants. There are more Cape Verdeans living outside the country than in it, and this often creates a shaky self image. "We have a certain lack of self esteem because we don't have our own references, food, or language. It's all Portuguese." What Cape Verdeans do have, however, is a rapidly evolving culture that picks up bits of influence from wherever its members land. "Our culture is very fluid," she says. "Cape Verdeans have a particular lifestyle and it's reflected in our dialect, Crioulo. It's ever changing, it's different wherever we are; in Cape Verde, in Lisbon, in Boston, or in the Netherlands." Tavares uses the softly inflected dialect throughout *Balance* but it's supplemented by verses in Portuguese, English, and Angolan slang.
The singer's breezy, childlike voice floats through Balance's 13 tracks, weaving all the disparate languages into a charming web of sound. Although she draws from traditional Cape Verdean styles like the pulsating coladeira dance rhythm, there's no one uniform sound save for the languid, feel-good, tone also found in reggae, bossa nova, soca, plena, and various other forms of island or tropical music. The title song opens the CD, and its joyful melodies establish the soft grooves that appear throughout the rest of the tracks. Touches of reggae, afrobeat, and the Angolan semba style are mixed with healthy doses of jazz to conjure deftly nuanced offerings. "Bom Feeling" serves up a light-hearted, gently percolating effect while "Poka Terra" features a flavorful duet with velvet-voiced Melo D that throbs with percussion and flowing harmonies.
A self-taught guitarist of only six years, Tavares deftly uses it as a percussive instrument, and her skills are showcased on "Dam Bo" where echo effects deepen the riffs and "Ess Amor" where she creates a dreamy, string-laden landscape. "My sound is very personal," she says. "It's an intimate process; I take my guitar and go very slowly. I improvise the melody in my head and I go to the guitar to bring it out. It's very Lusophone; it's the Portuguese/African influence. The music has lots of flavor from all of the countries of the Portuguese world."
It was that Portuguese/African world that proved most challenging for Tavares when she was growing up in Lisbon. All of Balance's songs are about self-love and affirmation because those were the toughest battles for her. "My greatest challenge was growing up without my parents. I was raised by a Portuguese woman and I was always pointed out as different. I had to defend myself all the time. I was in the middle of all these Portuguese people and learned the pride that comes from rebellion."
Appropriately, it was music that helped her discover her roots. When she was 14, Tavares won two national Portuguese TV contests similar to "American Idol." The media exposure attracted a host of Cape Verdean musicians, and they led her home. "I got the opportunities to do this TV contest, which led me to musicians, which led me to Cape Verde," she says. "I saw the place where my parents were born, the streets they walked. It helped define my identity." The music industry, however, did not do much for her in the area of identity. After recording albums of funk, R&B, and gospel, she decided to step back. "I thought I was getting into the music world but it really wasn't about music," she says. "I had to pull myself away from the media and focus on the music."
For Tavares, focusing on her own music meant singing in Crioulo, Portuguese, Angolan slang, and some English – the languages she uses when she's with her friends in Lisbon. "My first language was Portuguese, then came Crioulo in my teens, and then English from MTV. I think in Portuguese and Crioulo and English are my creative languages. I write songs, read books, and listen to music with those."
Although she's traveled a long road to get to the deceptively simple songs on Balance, she wants her listeners to experience the pleasures of Cape Verde's island culture with each tune. "I just want people to get a positive vibe from it. I want it to be like a perfume that makes you smile."
–Rosalind Cummings-Yeates
Category: Monthly