Dwight Yoakam
Park West, Chicago
Wednesday, August 30, 2006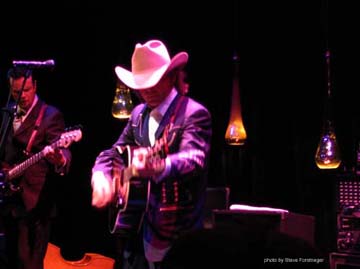 Country star Dwight Yoakam doesn't have the reputation of being the business end of anything. But a pre-show meet-and-greet ran overtime Wednesday, forcing him and his band to take the stage much later than scheduled. And did he ever make up for it.
Having struck his first chord slightly before the clock ticked 8:40, by 9:40 Yoakam had already finished his 17th tune. Discarding most of the inter-song banter and storytelling he normally sates the audience with, he instead focused on crunching as many songs together as he could and drew from every phase of his 20-year career. Even after finishing a slow song like Hank Snow's "Crying Time," the audience was half expecting the ghost of Dee Dee Ramone to appear and count off "One, two, three, four!" before swaying into Buck Owens' "Together Again." (Yoakam would later oblige the notion counting off "Three Good Reasons.")
Throughout the whirlwind performance he never seemed to be moving quickly, but once an instrument exchange was done and a fresh guitar around his neck, he was on the bridge and into the third chorus. He managed a handful of anecdotes — Buck Owens demanding Yoakam record "Act Naturally"; growing up listening to bluegrass before diving into some Jimmy Martin — and teased the crowd with "Suspicious Minds," but his mind was clearly on giving the people what they paid for.
Yoakam's showmanship mirrors his rise in the back-to-basics sort of movement in the early '80s. At a time when country was at its bloated worst, honky tonk heroes like Yoakam and Randy Travis trimmed the fat and glitzy tack. While Yoakam does have a "move," extending his guitar leftward while staring at his right shoulder, the real performance is in the speakers. His haunting, Roy Orbison-gleaned voice materializes apparently not from his lips, but a shadow beneath the brim of a cowboy hat nearly pulled over his eyes. In the first of two Johnny Cash covers, he and band hotrodded "Ring Of Fire" to give it a pugilist's snarl, while earlier he greased the skids on Cheap Trick's "I Want You To Want Me" and let it swim in a sea of pedal steel.
Among the other highlights were a sparse, acoustic "I Sang Dixie," his Tom Petty-ish highway anthem "A Thousand Miles From Nowhere," and a haunting "Back Of Your Hand." That he played nearly all his songs made it hard to choose — maybe he should be late more often.
— Steve Forstneger
Category: Live Reviews, Weekly