Tiempo Libre
Ravinia Festival, Highland Park
Saturday, August 26, 2006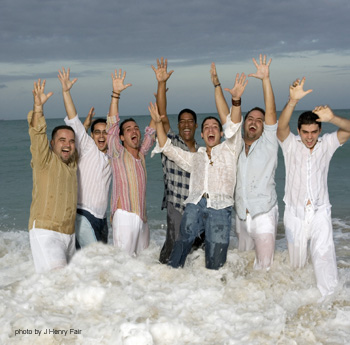 Cuban nationals Tiempo Libre may have formed in Miami, but their extravagant timba sound is pure Land Of Endless Summer.
Timba is most often compared to salsa, though the two developed independently. Both require extraordinary musicianship, though salsa is generally confined to certain boundaries. Timba musicians draw from a wealth of genres, from jazz to classical to rumba, gleaned from intense music schools in communist Cuba. It has also adopted all sorts of American music — forbidden on the island — which is why salsa remains salsa but timba is at times funk, rock, and hip-hop.
Tiempo Libre came together in Miami — timba ground zero outside Cuba — after the members fled the homeland. Their third album, What You've Been Waiting For (Lo Que Esperabas), is a wild blend of these elements, most evident in Earth, Wind & Fire tribute "Manos Pa'rriba." Throughout the rest of the album, Western pop and traditional Latin elements (bolero, cha-cha) are braided into an explosive dance pastiche.
Jimmy Bosch and Spanish Harlem Orchestra open.
— Steve Forstneger
Click here to download a sample of "Ven A Bailar."
Category: Stage Buzz, Weekly