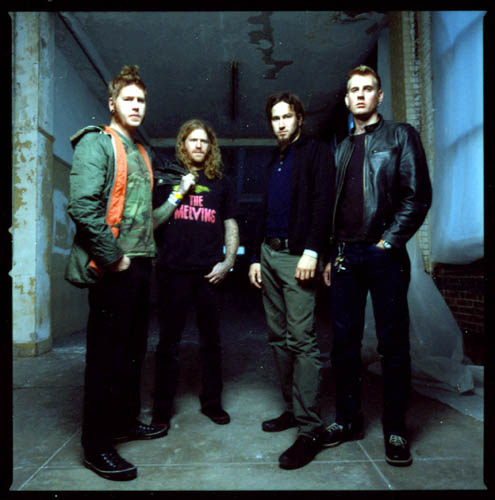 Mastodon vocalist/bassist Troy Sanders knows all about the classic struggle between man and animal. The topic made his band a household name, after all, when 2004's Leviathan (Relapse), a concept album that revolved around Herman Melville's Moby Dick, won the group acclaim from metalheads and indie hipsters alike.Appearing: September 14th at Metro in Chicago.
But the creature Sanders currently finds himself eye to eye with is a far cry from the enormous mythological beasts that have inspired so many Mastodon songs. When IE reaches Sanders at home in Atlanta, he faces genus Sciurus: the squirrel.
"I was just on the back patio, and there's like a squirrel tail and leg coming down, pinched in between the gutter and facial board of the house on the back deck," Sanders explains. "Then we tapped it, and it's alive. I went on the roof because I thought it might be sticking out of the gutter on top, and there's a six-inch gap between the ceiling of the back porch and the actual roof so his body, he's like in the house.
"I had a glove, and I was gonna just pick him up by his body and pull him out, but I can't reach his body and I'm not gonna peel off a section of the plywood just to save this dude," he continues. "So I'm thinking about going and getting a yardstick and just like, pushing his foot, give him a boost so he can get his foot out of the pinched gutter. If he just sits there and he's stuck he's gonna die and I don't want that to happen 'cause that would be terrible. I don't know what the hell we're gonna do."
Luckily, the gameplan for his band's future is much more certain than his critter rescue mission. When Sanders talks to us in late July he and his bandmates (guitarist Bill Kelliher, guitarist/vocalist Brent Hinds, and drummer Brann Dailor) have just finished the Unholy Alliance Tour, the colossal package headlined by Slayer that also featured Lamb Of God and Children Of Bodom, and are two weeks away from a string of European dates. Then it's a week and a half off before the group starts its North American tour this month in support of Blood Mountain (Warner Bros.; September 12th).
Mastodon has been a workhorse on the road since it debuted with the Lifesblood EP in 2001, so the fact the band is preparing for yet another tour is hardly news. But the fact it will be its first tour in support of a major label release is. Mastodon started receiving major label attention in fall 2004, only a few months after Leviathan's late-August release. Within a month of initial contact the band was talking with three "major fucking big time labels," as Sanders calls them. Warner Bros. quickly became the frontrunner (" . . . there was no suave L.A. bullshit," Sanders insists. "It was was just like normal people right from the get go.") and during the next seven months the group met with Warner reps half a dozen times, ensuring both sides were on the same page.
Ultimately the decision to jump the indie ship wasn't a difficult one because, Sanders explains, Warner Bros. wanted nothing more from Mastodon than to be Mastodon. "[Warner Bros.] didn't want us to change our sound; they didn't want us to write some hits; they didn't want us to slow down; they didn't want us to get less crazy; they didn't want us to tour more or less or anything," Sanders emphasizes. "They just wanted to take over where Relapse would stop and then take us to this worldwide level."
He continues: "We were nearing the end of our Relapse contract as well, and Relapse ultimately has limited resources. When Warner Bros. was ready to take us to a worldwide level, we were ready to accept. It was like if we don't have to sacrifice any of our musical creativity — our lyrics, our sight, our dream, our goal, our passion — we don't have to alter that one percent, then it seemed like a win-win situation."
Cries of "sell-out" will be inevitable, of course. Anytime a popular underground metal band crosses the divide to a major label, fans feel betrayed and insist their favorite band has become a mainstream puppet, littering Internet message boards with such claims before the ink on the contract even dries.
Sanders quickly dismisses any such accusations. "There was definitely no selling out whatsoever. We didn't receive millions of dollars; we didn't get new cars or houses . . . " He pauses before suddenly remembering, "We did get hooked up with some Vans shoes."
If you don't want to take Sanders' word, though, Blood Mountain speaks for itself. The album is unmistakably Mastodon, the next logical step from Leviathan just like that record was the logical evolution from Remission. The band's major label debut features some of its heaviest ("The Wolf Is Loose") material to date, its most frantic ("Circle Cysquatch"), its most epic ("Pendulous Skin"), and its most accessible ("Colony Of Birchmen").
"We went in; we wrote 12 songs; we wrote the lyrics; we used the same artists; we went to our old recording engineer, Matt Bayles, went to our same studio in Seattle — we kept everything the same. This is the same 12 songs we would have wrote [sic] if we were still on Relapse, or if we were on Roadrunner, or Epic or Sunny, or Warner Bros., or whatever. The only thing different is it's just going to say Warner Bros./Reprise on the album," Sanders says.
The record contains even more twists and turns, head-spinning time changes, and point-blank bludgeoning than Leviathan, but Sanders says the increased technical prowess wasn't intentional, but likely just a result of two more years, and hundreds of live shows, added to the group's resume . . .
— Trevor Fisher
To continue the story, pick up the September issue of Illinois Entertainer, available throughout Chicagoland.