By the time this story hits the press, Lupe Fiasco will still be awaiting the drop of his debut album, Food & Liquor (Atlantic) — more than half a year after its originally scheduled release date. Following an Internet leak of the album this past spring, among other snafus, it just doesn't seem like an official introduction to this West Side MC will ever happen (although at press time, Food & Liquor was slated to drop September 19th). With or without his album on the shelves, the 24-year-old Fiasco has been collecting more props this year for his spirited raps than most Chicago artists do in their entire career. But having been a part of the rap game since age 18, Fiasco has already had enough.
"I've been doing it for so long I feel like a veteran," he says. "I feel like I'm ready to retire. I got kudos, I got the respect of damn near the entire music industry, so I've done everything *but put an album out."
Fiasco isn't stroking his ego — he's merely reflecting the accreditation that keeps coming his way. Jay-Z and Kanye West can both vouch for his talent, as can most of the estimated 100,000 fans who illegally downloaded his album and the many more who bought his mixtapes. Unafraid to utilize his smarts, Fiasco gets the masses interested in topics they would normally shy away from (e.g. the bloodshed associated with the diamond trade). He does so not by preaching, but through engaging storytelling.
Arguably, his best story yet is "Kick Push," a song about his childhood adventures in skateboarding. In an astounding feat, he got the aforementioned track released as his debut single by Atlantic Records. Despite some initial resistance from his label, "Kick Push" made it onto FM airwaves, providing a stark contrast to the typical raps about rims and selling rock. "We had to exercise our creative control," Fiasco explains about getting the song out.
With the release of "Kick Push," journalists and weary music fans began dubbing him a "hip-hop savior." West shook up the mainstream a few years back, but Fiasco was entering the spotlight straight from left field. He, however, doesn't see his achievements in hip-hop as being all that noteworthy.
"I don't believe I'm the savior of hip-hop or bringing hip-hop back or anything like that — I just feel like it's me doing me!" exclaims Fiasco. "I don't really think I'm doing anything too different. I may be switching it up a little bit, but I really don't see it like I'm reinventing the wheel."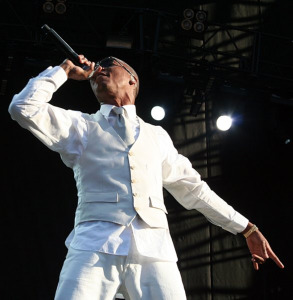 So he's a tad bit more humbled than West. But the fact is, Lupe Fiasco is one of the most complex personas in the rap game, whether he admits it or not. Thanks largely to his parents' influence, he's a practicing Muslim who enjoys jazz more than hip-hop, loves cooking, and has a strong passion for streetwear culture — specifically from Japan. In fact, all things Japanese have consumed him since his youth.
"I did martial arts since I was three-years-old, so I learned how to count in Japanese and I learned how to count in English, so to me I always had an affinity for it," says Fiasco. "Anything that was a product of Japan, whether it be robots, karate, [or] Power Rangers, I was always a fan of it."
Recently Fiasco fused his love of both Japanese streetwear and design and started his own company, Righteous Kung Fu. In addition to creating shoes, T-shirts, and toys, his company does graphic design work, including the cover art for Food & Liquor. Interestingly, the only time Fiasco's voice really lights up during our conversation is when he talks about his company.
Although, to the dismay of his fans, endeavors outside of the music industry like Righteous Kung Fu are gradually pulling him away from making hip-hop. But it's not like the music business isn't pushing him away either. In a bizarre self-imposed arrangement, Fiasco plans on recording only three albums. For someone who has generated so much anticipation, this move seems a bit premature. Fiasco begs to differ.
"I want to do enough to get what I want to say off my chest and then go on to the next thing," he says. "Plus I've been doing it for so long behind the scenes. It's like my sixth or seventh year in the music business so I'm just tired of the whole scene. As long as you're doing music and doing albums, you're forced to be in the scene, so I got enough stamina I think for three."
Fiasco was only 18 when he first got signed (with his short lived group, Da Pak), so despite experiencing some unforgettable moments being an MC — like chilling with Jay-Z at his house — he looks forward to expressing himself in ways other than behind a mic.
It's not too often you hear an MC who can articulate himself so fluently without swearing. But that's just a part of being an actual practicing Muslim in hip-hop. While Fiasco says Islam was just "theme music in the background" when he was younger, as he matured, he realized that it was time to bring his faith to the fore.
"When I grew up and embraced it a little bit more, that's when [I said], 'I'm gonna stop cursin' in my verses [and] I'm gonna not do records where I'm degrading women.' I'm not really wearing Islam on my sleeve and making records about Islam — it's more like I take the basic things that go against Islam and being Muslim and take those things out of my record."
Fiasco's hip-hop isn't exactly squeaky clean. On his new single, "I Gotcha," you can hear this righteous MC wanting to cuss, but ultimately censoring himself for a greater good. As he raps on the call-and-response chorus, "You want the real shhh? I gotcha." This type of push-and-pull is the basis of Food & Liquor, which represents wants and needs and trying to find a happy medium.
For Fiasco, finding balance is just as prevalent in painting a more inclusive depiction of Chicago. In his video for "Kick Push," he includes shots of himself skating through downtown and Humboldt Park and rapping everywhere from the projects on the West Side to the famed Uprise skate shop on Milwaukee Avenue. Ultimately, it's the portrait of an adventurous kid who has never been confined by a four-block radius of his neighborhood.
Fiasco may have grown up in the Madison Terrace projects, but that doesn't mean that's all he represents. He'll pose for pictures in front of these West Side structures. On the same note, you're not likely to find him showing off a platinum grill and diamond chain to the less fortunate residents of his former 'hood. "I never wanna have that video where I'm flooded in diamonds and there's a bunch of poor little kids around me," says Fiasco. "It's like, 'Nah, I'm cool.'"
As he says of his music, "It's not just for the 'hood, it's not just for the projects — it's for the entire city: the suburbs, from Lincoln Park all the way to Cabrini Green and everything in between. So I try and touch and show people the entire city as opposed to one part of it."
Without an album to his name, Lupe Fiasco is already helping to redefine the face of hip-hop in the mainstream not unlike fellow Chicago native Rhymefest. And with his predetermined retirement on the horizon, we have no choice but to enjoy the moment while it lasts.
— Max Herman