Cheap Trick
The Rockford Files
You know the old saying, 'If you can make it in New York, you can make it anywhere'?" asks Cheap Trick's lead guitarist and main songwriter Rick Nielsen. "I say, 'If you can make it in Rockford, you can make it anywhere.'"
Appearing 9/3 at Ravinia in Highland Park.
As the third most populous city in Illinois, Rockford isn't exactly a hole in the wall. Were it not for Cheap Trick, however, the city's rock 'n' roll significance would be practically nil, a fact of which Nielsen is well aware.
"People tell us all the time that when they mention they're from Rockford — they could be on vacation in Sweden or Spain or South America — the response they get is 'Oh, Cheap Trick's from there!'"
One recent recipient of such a response was Nielsen's drummer son Daxx. After playing a showcase performance in New York, he was approached by Bad Company's Simon Kirke, who complimented him and asked him where he was from. "Daxx said, 'I'm from the Midwest,'" says Nielsen. "'Oh? Where from?' 'Near Chicago.' 'What city?' 'Rockford.' 'Oh! Cheap Trick are from Rockford!' 'My dad is in Cheap Trick!' 'Geez, I was just with your dad last week!'"
In light of the Cheap Trick-Rockford connection, it's hardly surprising the band has named its new album after the city. "It was Robin's idea," says Nielsen, referring to vocalist nonpareil Robin Zander, "although obviously the rest of us had to agree with it. Besides, Chicago was already taken."
Rockford-the-city should feel honored. Not only is Cheap Trick playing its secret Rockford-release show there, but Rockford-the-album is the band's strongest recording in years. Certainly few of its albums have begun with the bang provided by its opening track, "Welcome To The World." Inspired by the birth of the first of Nielsen's three grandchildren (to whom he is known affectionately as "Grumpy"), it packs so much hooky wallop it could easily become the modern-day equivalent of spanking newborns into postpartum existence.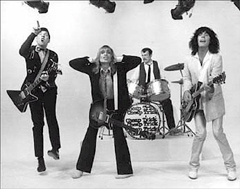 The rest of the tracks maintain the momentum. Only on midtempo power ballad "All Those Years" and the lovely, hazily lilting "O Claire" (not to be confused with
Heaven Tonight
's "Oh Claire") does the album significantly switch gears, but even "O Claire" delivers a sonic wake-up call when drummer Bun E. Carlos comes crashing in. "Perfect Stranger," which was produced and co-written with the ex-4 Non Blonde Linda Perry, is the album's first single, but a half dozen other equally hooky cuts could've gotten the nod.
Despite the album's obvious qualities, Nielsen is hesitant to endorse bassist Tom Petersson's quote that circulated with Rockford's official pre-release publicity: "It's by far our best work yet." Nielsen does admit, however, the album is Cheap Trick's most upbeat in awhile. "We made a good record," he says, "but then we always try to make good records. I think there are good songs on all of them, but '97's [Cheap Trick] seemed kind of dark, and the next one [2003's Special One] was kind of in-between dark and upbeat. This one seems like, to me, kind of In Color-ish, except better recorded, for sure."
The best news for fans is there are apparently a lot more "good songs" where Rockford's and Special One's came from. "We almost used 'Decaf' on our last record," Nielsen recalls in reference to Rockford's closing track. "With the last record we had, like, 40 songs, and with this one we had 30." As Special One ended up with 11 songs and Rockford with 12, a quick running of the numbers means there are close to 50 unreleased good-to-great Cheap Trick songs in various stages of completion from the 21st century alone.
"We choose what to record pretty democratically," Nielsen says. "First we see whether there are any songs that all four of us want to work on and finish. Then we see how many songs get three votes. If a song gets two votes or less, we don't finish it, even if it's a good song."
Apparently democracy works, as Cheap Trick continues to enjoy the fringe benefits that come with long-running excellence and fame. Epic/Legacy, for instance, has recently added 1979's Dream Police and 1980's All Shook Up to the band's growing catalog of remastered, bonus-track-enhanced titles, and ABC and Comedy Central have followed Fox's "That '70s Show" lead in using the band's music for the themes of "Sons And Daughters" and "The Colbert Report," respectively.
Practically the only sector of the music world neglecting to acknowledge Cheap Trick's merits is the Rock And Roll Hall Of Fame, which has snubbed Nielsen, Zander, Petersson, and Carlos since they became eligible five years ago (while inducting such dubious "rock 'n' rollers" as Brenda Lee, Isaac Hayes, and Jackson Browne). Nielsen, however, remains unfazed. "If we make it in there, great! If we don't make it in there, great!" he laughs. "It doesn't matter. It's not something that, when we started our career, we were hoping to get into. It wasn't even around then. Anyway, I think we are in the Rock And Roll Hall Of Fame because we're still playing and we're still making records. That to me is the Rock And Roll Hall Of Fame."
In addition to being genuinely productive, Cheap Trick is also still intact, a designation to which no other '70s band except Aerosmith can lay claim. Or, to put it another way, the best-selling groups in 1979 (the year Cheap Trick At Budokan went multi-platinum) were The Bee Gees, The Eagles, Led Zeppelin, The Knack, Supertramp, and The Blues Brothers, none of whom are likely to be performing in Rockford, or anywhere else for that matter, any time soon.
When Cheap Trick plays its Rockford-release show in June, Nielsen expects many of the band's old friends to show up, some of whom were musicians he used to work with and who were, he claims, better musicians than he was. The difference between them and him, he says, came down to priorities.
"They wanted to go to the prom instead of to play at the prom," he quips. "I never went to the prom, and I never went to a football game because I was always working. My priority was to be in a band, and it's still my priority."
With the 30th anniversary of Cheap Trick's recording debut just around the corner and the likelihood of many happy returns to come, it's hard to question the wisdom of Nielsen's decisions.
— Arsenio Orteza